Are you looking into choosing the best pool deck? It's great that you are even thinking about it. The deck surrounding the pool is crucial, along with the pool itself. It's aesthetic strength and functionality are what makes it essential. It means that the deck you choose must be both visually appealing and functional.
Slip resistance is one of the key features your pool deck needs to have. Your pool is one of the wettest places with a high risk of water spills. There is no way to know how dangerous it will be if the deck is not slip-resistant.
Porcelain decks are hard boards commonly used to surround a swimming pool. But if you're one of the few who want to know why Porcelain is so popular, you've come to the right place. In this article, we will go over the advantages and disadvantages of these deck boards. We will also introduce some frequently asked questions at the bottom of this guide for more direct answers to your questions.
6 Benefits of Porcelain Tiles
Here are six top reasons you should consider using these tiles for your pool deck.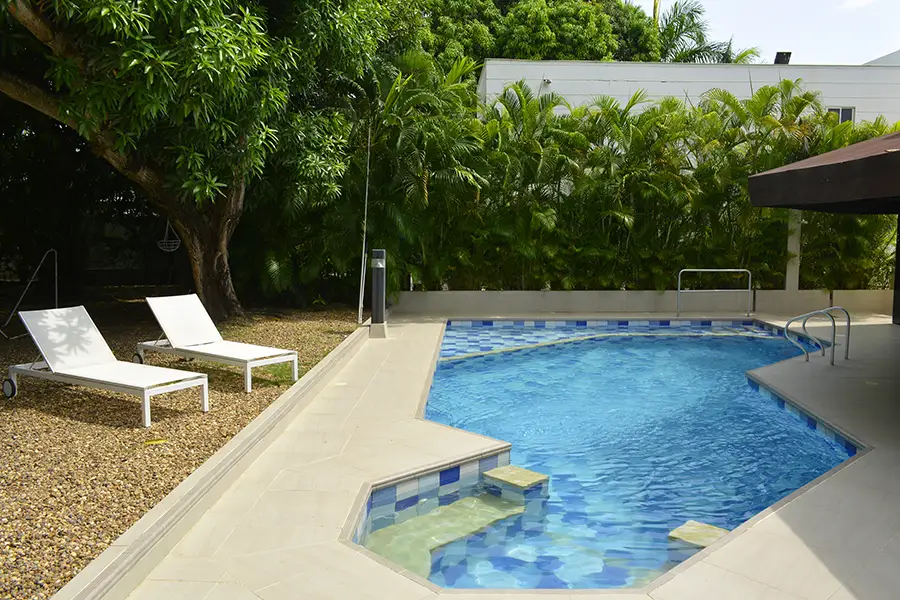 No Slip Properties
One feature of a pool is the high likelihood of water splashes. That is why it is critical that the decking you choose is slip resistant. Porcelain naturally keeps its grip much more than other tiles. It does not become slippery, unlike its competitors. As a result, it is the best and safest choice for the pool area, which is more slippery than any other area. Because the decking material is anti-slip, you no longer have to worry about water splashes.
Mold and Bacteria-Resistance
Given the pool area's water splashes and spills, it's likely that the surrounding deck will absorb this moisture. Molds, mildew, and other bacteria begin to form as a result. This situation is not only unsightly, but it is also unhealthy because you will most likely be walking around the pool without shoes. It is especially important to consider this event if there will be children around the pool.
The best way to deal with this might be to remove the molds, but what if your deck is already mold-resistant and does not absorb moisture? That is one of the characteristics of Porcelain that makes it an excellent choice, particularly for the pool area. The material is not only anti-slip, but it also does not absorb moisture, making it resistant to mold and mildew growth.
Upscale Appearance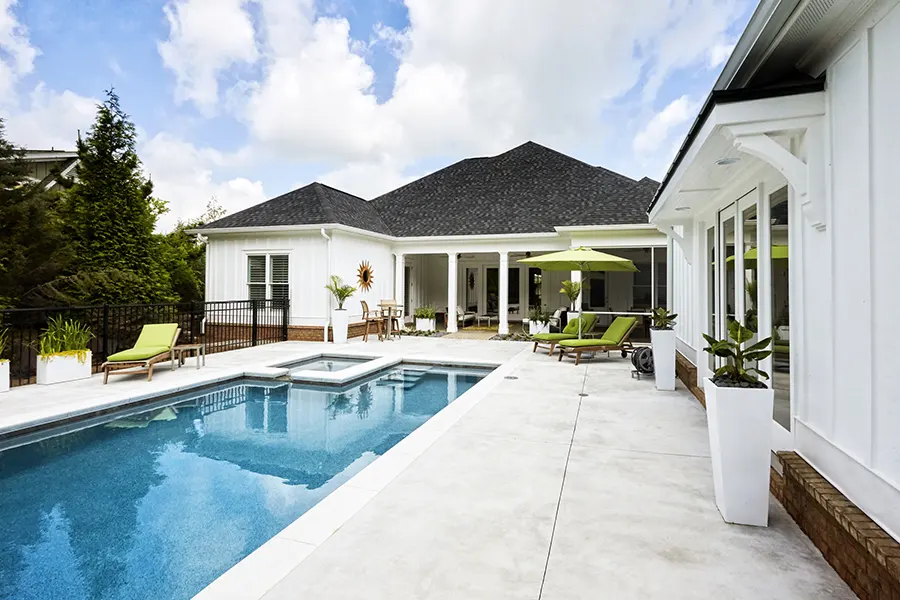 Porcelain tiles are one of the few options that can improve the appearance of any pool. Whether you want a bright look or something in between, you will be pleased with how the tiles look. As Porcelain is made of ceramic, it is easy to match the appearance of wood paneling and natural stone. There are also numerous colors to choose from; no matter what shade you pick, it will not fade for ten years. Porcelain pool boards maintain their appearance come sun, rain, or snow.
Easy on the Pockets
Aside from being inexpensive, Porcelain is also very cost-effective. When it comes to some other tiles, you will have to spend money to buy them, more money to clean them, and even more money to maintain and repair them. It doesn't have to be that way with Porcelain tiles. While the initial cost is reasonable, you will spend less on care and maintenance. Not to mention that you will not need to pay for repairs for many years.
Easy Maintenance
Maintenance includes cleaning, management, and, if necessary, repair. Porcelain pavers triumph in all three categories. The tiles are simple to clean and maintain. They also do not get dirty easily. Frost, fire, and stain resistance are all features of the pool board. It is resistant to chipping, scratching, and erosion. In the same way, if it is damaged, the repair is not extensive. Instead of removing an entire block or row of tiles, as with brick and poured concrete, you can remove the damaged section.
Highly Durable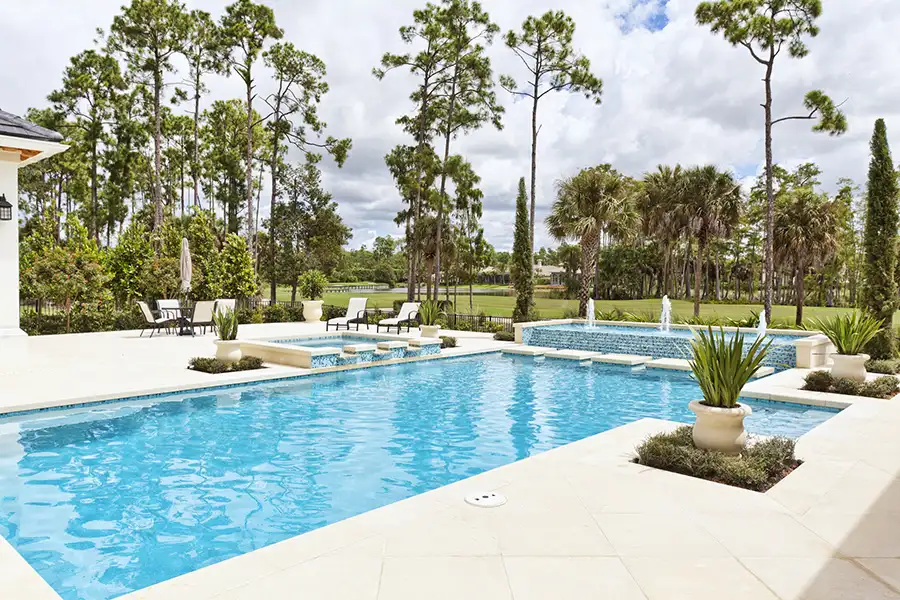 Durability, as previously stated, is another strong suit of Porcelain. It can last many years without losing color, quality, or appearance. If you have a commercial pool, Porcelain pool decks are the best, most affordable, and most environmentally friendly option. Similarly, homeowners will appreciate Porcelain as their pool decking material because there will be no need to replace the tiles anytime soon.
Some Cons?
For the most part, what has been said about Porcelain pool decks has been positive. But are there any drawbacks you should be aware of? If so, what exactly are they? We discovered only one disadvantage of Porcelain pool pavers through research. Without professional installation skills, you cannot install Porcelain tiles yourself.
Understandably, Porcelain tiles are also difficult to install, given their durability and inability to allow moisture to pass through. You must have the necessary expertise to properly install the tiles to be durable, attractive, and functional. As a result, installing Porcelain boards isn't one of them if you're looking for a do-it-yourself project.
Frequently Asked Questions:
Are Porcelain pool tiles slippery?
Porcelain pool tiles retain their grip no matter how much water is spilled on them. This feature then makes Porcelain tiles non-slippery. It is the most secure deck material for pool areas.
Do Porcelain pavers get hot in the sun?
Porcelain pavers do not become hot in the sun. They are heat and frost-resistant, which means they do not change temperature with the weather. Porcelain pool tiles keep their temperature cool all day, whether sunny or cool.
What are the disadvantages of Porcelain tiles?
Unless you have prior experience, you may not be able to install Porcelain tiles yourself. They are difficult to install and necessitate professional assistance before installation.
Finding the Best Porcelain Decks for your Pool
Your pool deserves to be treated with ultimate care and luxury. It is where you spend your hot afternoon soaking in the coolness of the surrounding water. Not to mention that it is also a part of your property and has a subtle way of affecting your space's entire value and appearance. Hence, the use of porcelain tiles comes down to the proper installation, the right concept for arrangement, and most of all, the professional's touch.
You need the decks to be properly placed beside each other so that they are as neat as you envisioned and well-installed to avoid moisture seeping through. Though there are many deck installation services in Florida, you need the best to handle this project. Atlas Pools is your best bet when it comes to porcelain decks. They have over 4 decades of experience and offer a wide range of services covering deck installation, pool construction, and anything that can bring your dream pool to life!