Embrace a lifestyle of opulence and well-being with luxury lap pools, an irresistible blend of leisure, fitness, and aesthetic elegance.
As you step into the world of luxury lap pools, discover how they redefine the concept of modern living spaces and transform your home into a lavish retreat.
Design Elements for Luxury Lap Pools
Pool Size and Shape
When it comes to luxury lap pools, size and shape are more than just dimensions; they're reflections of your personal style, fitness needs, and available space. From compact pools for urban backyards to sprawling ones for larger estates, the flexibility is endless. Opt for a pool design that complements your property and serves your swimming desires.
Construction Materials
In the world of luxury lap pools, construction materials extend beyond functionality, contributing to visual appeal and durability. Opt for materials that ensure longevity while enhancing the pool's overall aesthetics, from natural stone for a rustic touch to sleek tiles for a contemporary look. Consider the pool's interior finish, coping, and decking materials to create a cohesive and harmonious design.
Water Features and Lighting
Raise the sensory appeal of your pool with water features like cascading waterfalls, tranquil fountains, and soothing jets. These elements add a dynamic touch and create an immersive, relaxing atmosphere. Simultaneously, strategic lighting adds an enchanting allure, highlighting the pool's features while ensuring safety for night-time dips. Explore options like underwater LED lights, illuminated water features, and landscape lighting to create a magical ambiance.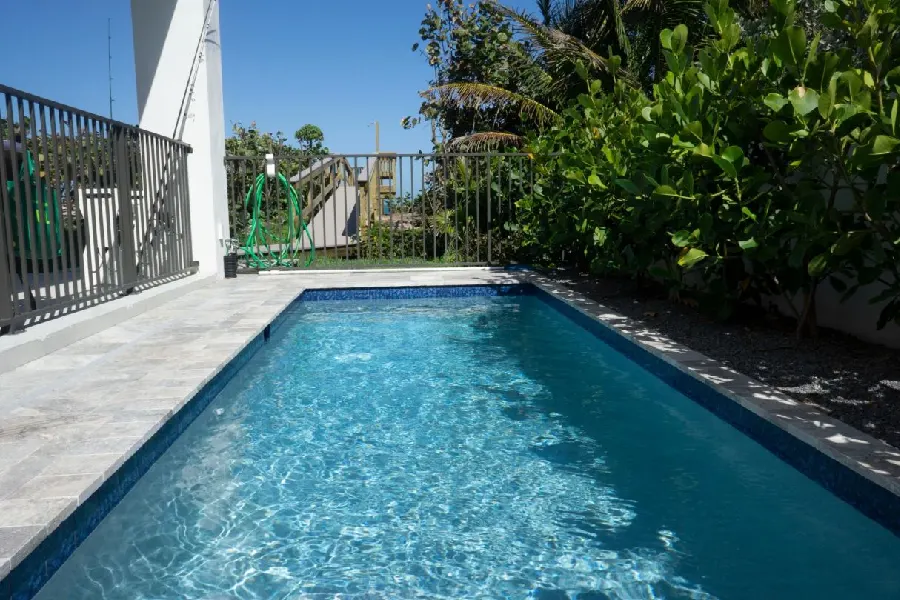 Benefits and Importance of Luxury Lap Pools
Benefits of Lap Swimming and Exercise
Luxury lap pools offer an at-home solution for fitness enthusiasts, blending the convenience of exercise with the therapeutic benefits of swimming. Dive into a healthier lifestyle without leaving the comfort of your home. Swimming promotes cardiovascular health, muscle strength, flexibility, and mental well-being, making it an ideal exercise for people of all ages and fitness levels.
Importance of Lap Pools in Modern Design
In the realm of modern design, luxury lap pools are more than a trend; they're an integral part of the living experience. They blur the lines between indoor and outdoor spaces, contributing to a holistic and luxurious living environment. A well-designed lap pool seamlessly integrates with your home's architecture and landscape, creating a stunning visual focal point that enhances your property's value and appeal.
Popular Luxury Lap Pool Designs
Rectangular, L-shaped, Infinity, Rooftop Lap Pools
The design scope for luxury lap pools is boundless. Opt for a classic rectangular design for a timeless appeal or an L-shaped pool for a unique touch that maximizes your available space. Infinity lap pools, blending the water's edge with the horizon, offer a surreal visual treat, making them a popular choice for properties with breathtaking views. And for a truly unique experience, rooftop lap pools provide stunning vistas, a sense of serenity, and an unmatched sense of exclusivity.
Lap Pools with Built-in Spas or Hot Tubs
Integrate spas or hot tubs into your luxury lap pools for an ultimate retreat that caters to both exercise and relaxation. After your vigorous swimming session, indulge in the relaxing waters of your in-built spa, soothing your muscles and recharging your spirit. This combination of wellness features not only enhances functionality but also adds a touch of opulence to your space.
Factors to Consider in Designing Luxury Lap Pools
Budget and Cost
When planning for luxury lap pools, budgeting and cost considerations are crucial. Factor in not just the immediate costs of construction, but also ongoing maintenance, energy usage, and potential upgrades. Remember, a well-planned investment in a luxury lap pool can significantly enhance your property's value and your lifestyle quality.
Environmental and Climate Factors
The local climate and environmental factors play a significant role in designing luxury lap pools. For colder climates, consider heating options or enclosures to extend your pool's usability throughout the year. In warmer areas, shade features, landscaping, and water cooling systems can help maintain a comfortable swimming environment. Always strive for a design that harmoniously coexists with its surroundings.
Safety and Security Measures
Creating a safe and secure environment is a paramount aspect of designing luxury lap pools. Implement safety features like fencing, pool covers, non-slip decking, and adequate lighting. If children or the elderly use the pool, consider incorporating safety ledges, handrails, or gentle entry steps. Remember, a well-designed pool should inspire joy and peace of mind, not concern.
Conclusion
Luxury lap pools offer an unparalleled blend of style, luxury, and wellness. Dive into this world and let them transform your home into a lavish haven of elegance and well-being. Trust the professionals at Atlas Pools to bring your vision to life with unmatched expertise and creativity. Contact us today to start your journey towards a luxurious poolside lifestyle.