Everybody wants the best they can possibly get, and when it comes to luxury pool decks, it isn't too different. But if you think you will leave this article with a single recommended product or company, you might have to think again.
This guide is not going to lead you to a single product; it will show you how you can make your own luxury pool deck. How best can you get a unique product if the design comes from your head? Stick to the end if you want to know how many of these Instagram and Pinterest houses get their luxury pool decks.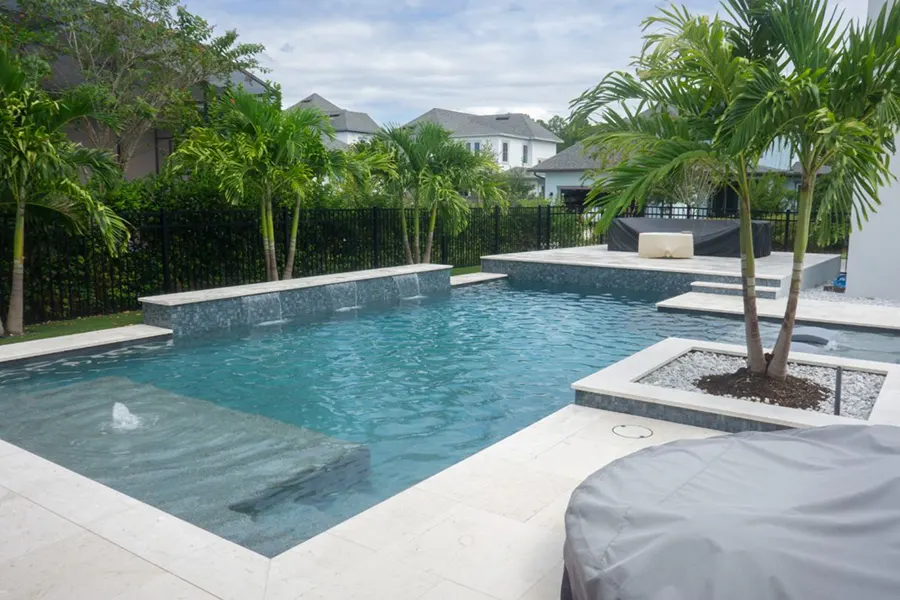 Designing a Luxury Pool Deck
Before you build, you must design what you want - have it on the scrap sheet for guidance. While we cannot bring you a design [remember, it is supposed to be unique to YOU], we can show you a list of elements professionals, and aesthetic masters take along during designing.
Sizing and Shapes: This depends on how much space you have around your pool and how large your pool is. The shape should also be appealing to you naturally. Your options lie within square, rectangle, circular, or irregular shapes.
Luxury pool deck materials: Most people use porcelain tiles, wood, or natural stone materials for luxury pool deck design. Choose from any of these, and you will make yourself a beauty to behold.
Landscape: Luxury decks have vegetation, flowers, and other organic additions that make the space look more fabulous - far from the ordinary.
Luxury pool deck furniture: Stylish outdoor furniture can make the space look even more beautiful. Not to mention that the furniture is also very functional for relaxing and unwinding.
A few tips we might also add include:
Maximize the powers of colors, textures, and patterns.
Artworks are such great ideas if you have an artistic side.
Outdoor kitchens have become a part of the trend and also come in handy.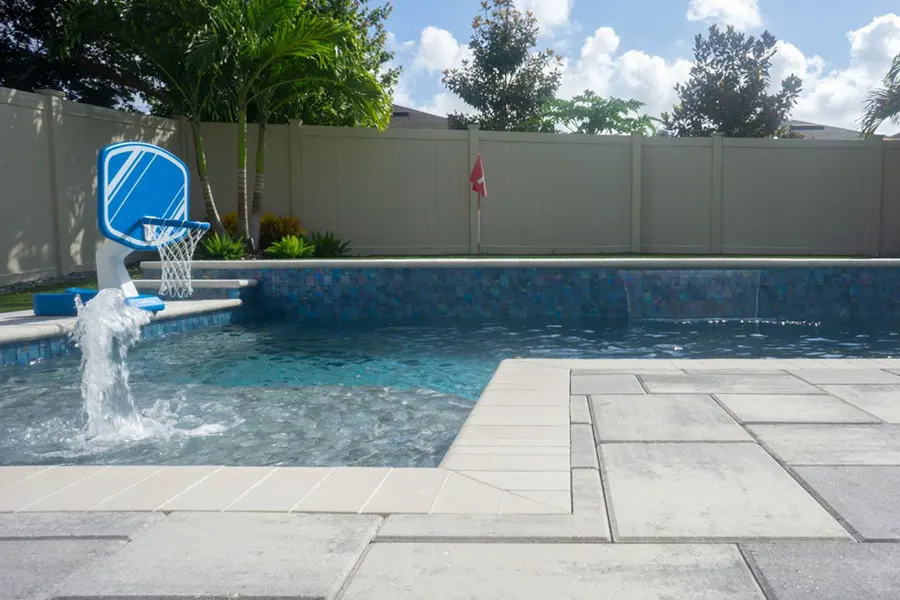 Building a Luxury Pool Deck
If you have completed the design for your pool deck and how you want it to look, you can build. So get your caps on and get ready to build away. The steps include:
Calculate the Costs
The first thing to do is to have an idea of how much you want to spend. You can check online for an idea of how much it will cost to get the luxury pool built with your design. But know that the amount of money you will spend on a small-spaced deck could be doubled or tripled if you are building a larger-spaced deck. The customization level you plan to go for will also determine how much you will spend.
Get the Permit
Building a pool requires some permits and inspections. It's not much of a big deal, but it is necessary. Therefore, you must go to your local authorities to understand the rules and requirements for building a pool in your area. If you are working with a professional, which you surely still would, they might already know all the codes and requirements. But it is still safe to ask.
Call the Pros
Now that you have everything ready, it is time to bring in the final piece of the puzzle - the professionals. Since they are professionals, they have the skills and experience to build pool decks. Hence, they can help you build your deck in a way that surprises you. You can also show them your designs, and they will incorporate them all through. Note that the professionals will not tamper with your designs. They are only there to do the technical part of the deck installation.
Choosing the Right Accessories for Your Luxury Pool Deck
Before we conclude, it is time to discuss the accessories that can make your pool deck truly luxurious. Here are a few of the most popular options that are used;
Add a fireplace or an outdoor fire pit for aesthetic and warmth during the cold weather.
A place for speakers is a good idea if you love music.
If you have kids or teens, you can add some inflatable toys and balloons in the pool
Pergolas can provide shade and a unique structure on the pool deck.
Outdoor lighting options truly lift the look of the deck at night.
While there are other accessories to choose from, you must also know that your style and preference matter. Whatever works for one person does not have to work for you. You are free to decide on the colors, the material, or even the design of your pool deck.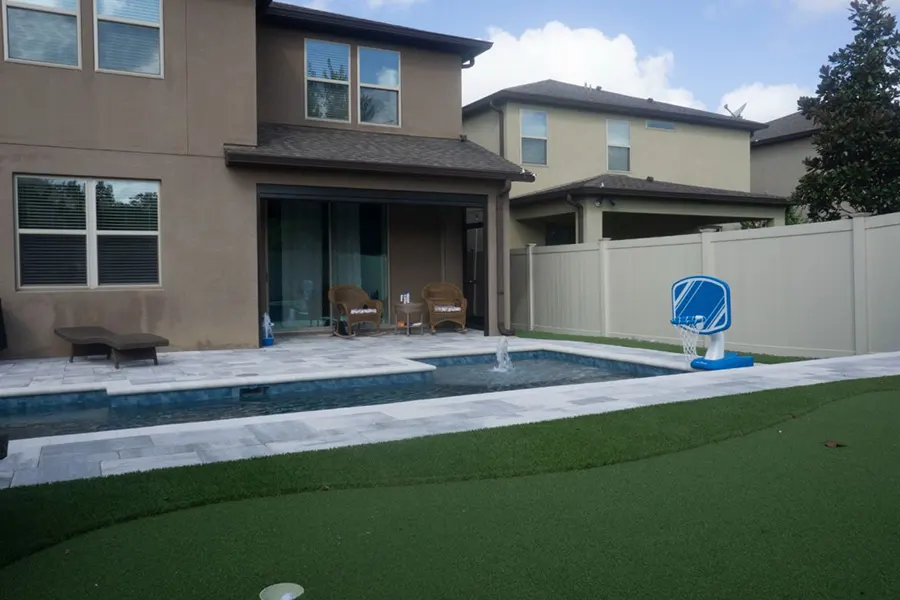 Tips for Adding Accessories Without Taking Up Space
As a common question, it is important to discuss what you can do if you don't want to take up all the space in your home, leaving it less luxurious and more crowded. Here are the tips to follow then, for a satisfactory outdoor space and pool deck.
Work with what you have already. If you already have a theme with your pool, complement that with the deck. Going for something entirely different can clash and cause unsettlement with the visual appearance.
Don't forget to match the colors: That's all there is to it. Color blocking can be allowed only if you can maximize it well.
Less is more: The best way to avoid cluttering is simply not to clutter. Don't add too many things in the name of fanciness. It just ends up being cheap.
Arrange: Another thing you can do is to arrange items in an orderly manner instead of leaving them scattered around the place.
Give it Function: One thing about luxury is that it also has a reason, and a purpose for being where it is. So wherever you wish to add, make sure it has a reason for being there. Else, remove it.
Conclusion
Now that we have reached the end, it is time to say you should get a pool renovation if you already haven't. Remember that when you get your pool deck looking as great as it should, it increases the value of your space, improves the swimming experience and you can finally have friends over for a party. Atlas Pool Service is a great company that offers these services on a top-quality level. Contact them today and you can start your journey towards your dream pool.