Most homeowners love to have a pool in their homes; it's the icing on the cake.
Besides, in recent times, modern rectangular pools are fast becoming a favorite among homeowners. The reasons for this range from health and wellness benefits to aesthetic value, among others. This article focuses on modern rectangle pool benefits and how to incorporate one in your yard.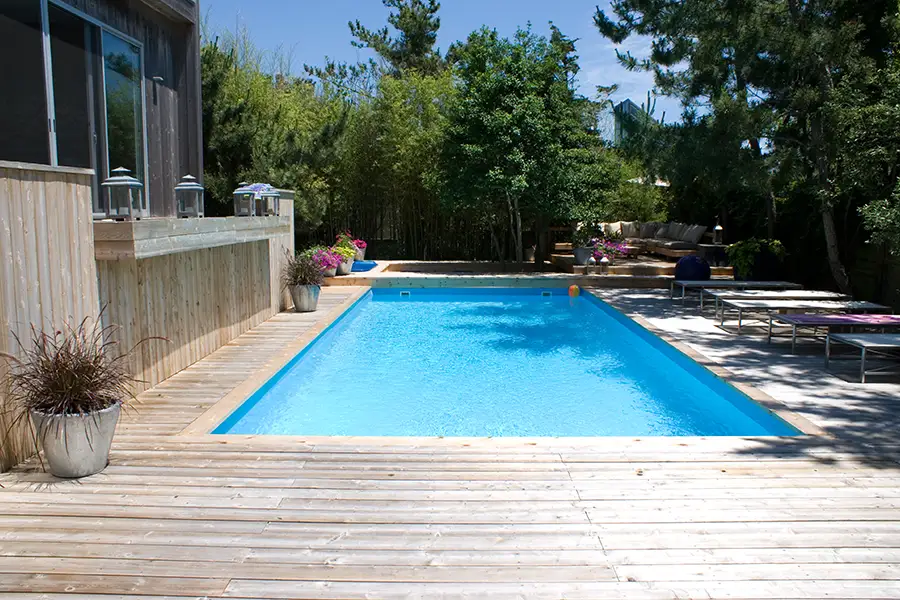 Benefits of Modern Rectangle Pools
A. Enhanced Aesthetics
I. Clean and Minimalist design
One of the beautiful things about modern rectangle pools is their smooth and sleek design. The design makes it look formal and clean. If you are a minimalist, this would be perfect for you. With this design, you don't have to add a lot of fixtures to make it functional. The clean, simple, sleek look will give your yard a visually appealing formal look.
II. Fits modern architectural styles
Most modern architectural styles are built with straight edges and sleek designs. If your house features a modern rectangle pool, it just complements the whole style. Though this could look masculine, it could also pronounce strength and focus.
Besides, most modern architectural designs are built with little yard space left. The slim length of the pool allows you to feature a swimming pool despite the limited yard space.
B. Increased Functionality
I. Ideal for lap swimming and exercise
The modern rectangular pool is widely famed for lap swimming. Because of the length of the pool, it allows for a long stretch of lap swimming. This is an all-around body exercise that would work for your body, stretch and tone your muscles, improve your cardiovascular health, increase blood circulation and ultimately improve your sleep.
II. More space for outdoor activities
With the little space a modern rectangular pool requires, you would still have a lot of yard space to yourself for other outdoor activities. You could have a barbecue stand just outside of the pool to complement the swimming activities.
You can even install a cocktail stand too. If there is a need for a mini get-together or party, hosting it at the poolside will be an excellent idea if there is enough space for it. The simple design of the modern rectangle pool will give you an opportunity for all these.
C. Lower Maintenance Costs
I. Easier to clean and maintain
To have a healthy pool, you must clean your pool regularly. One of the easiest pool designs to clean is the modern rectangle pool. With the sharp 90° edges, they are less likely to entrap dirt.
It's also easier to use pool covers with them; this is because most pool covers come in rectangular shapes.
II. Saves money on chemicals and repairs
The rectangular pool reduces how much you spend on chemicals. This is due to the minimalist structure and design. The lesser the component, the lesser the chemicals used. And of course, it is easier to maintain and repair too.
Aside from that, the money spent on repair will be minimal. It is as if nothing can go wrong. But, if any of the parts need repairs, The repairs will cost less because of the simplicity of the design.
D. Higher Resale Value
I. Attract buyers looking for modern features
A home featuring a swimming pool is a haven and most buyers will naturally be attracted to it. If the pool is a modern one, it adds some aesthetic value to the property.
It gives the home a modern classic look with all its clean and sharp edges. Most buyers looking for a modern design would likely pay the offer price for it.
II. Adds value to the property
A modern rectangular pool turns an ordinary home into a luxury one. It adds style and beauty to the home and makes it modern, elegant and stylish. This pool type has a great shape that resonates well with a lot of architectural designs too. So, no matter the style of your home, adding a rectangle pool to it can instantly increase its value.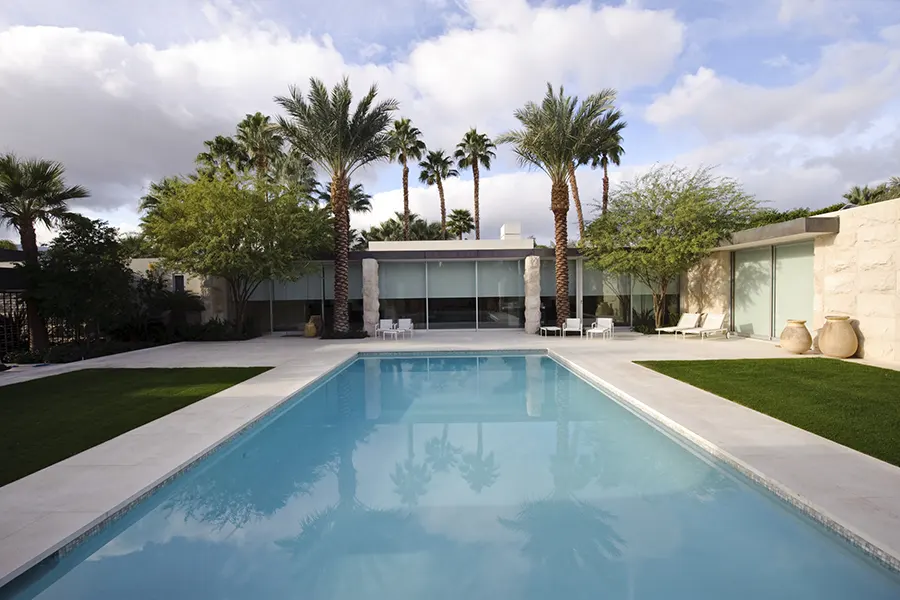 How to Incorporate Modern Rectangle Pools in your Outdoor Space.
A. Planning the Layout
I. Consider the Size and Shape of your Backyard
As beautiful as a modern rectangle pool is, it needs to be well-planned and designed. Top on your consideration list is the location. How big is your yard? Thesize of your yard will determine the size of your pool.
You have to consider if you want a lot of walkways and a deck area. You also have to determine if you want extra space for other outdoor activities too. All of these size considerations will help you pick the right pool size.
Don't forget to factor in the yard shape in your planning. The yard shape will also play a major role in the size and placement of your rectangular pool.
II. Think about how the pool will complement your home
It may be hard to know if this type of pool will complement your home. An easier way to do this is to think about the landscaping of your home. Where do you want to place the pool? What is the land topography? Do you have a lake nearby? Do you want the pool to overlook the lake and give you an infinity-edge view? All of these will help you decide how best the pool can complement your home.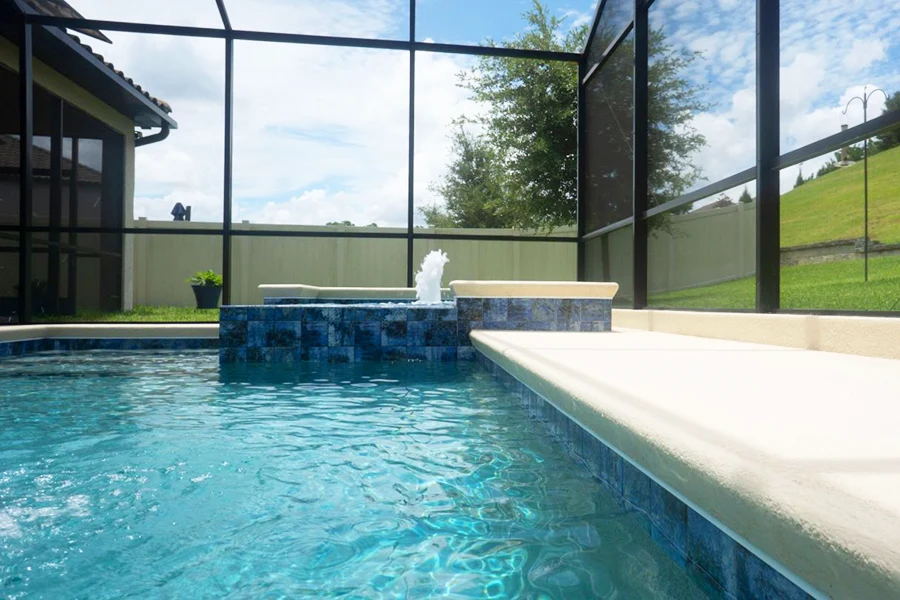 B. Choosing the right material
I. Selecting durable and modern materials
The right material is not necessarily the most fanciful. The right material is the one that will stand the test of time. Since you are building a modern rectangular pool, you have to make sure your materials are not just durable, they are also modern, state-of-the-art modern!
Now, it may be a bit stressful to find these materials by yourself, but with the help of a professional, it won't be difficult at all.
II. Discussing options with a pool builder
Discussing your options with a professional pool builder is not negotiable if you want a pool that will serve you and your family, stand the test of time, and be a beautiful sight to behold.
The professionals know all the best materials, they can spot the best location in your home and they have the skills to build a standard pool.
C. Adding complementary features
I. Installing pool light
If you desire, or if you love night swimming, installing a pool light will make a lot of difference to your pool. Asides from illuminating the area and preventing accidents, it can also beautify the pool tremendously.
It may be the only complementary feature that would make the pool stand out and make it a center of attraction.
II. Incorporating landscaping and hardscaping.
Incorporating landscaping around the pool area implies a well-planned environment. If you are a lover of nature, this is the time to turn your pool area into a beautiful work of nature. You can incorporate trees, flowers, rocks and stones creatively to complement the pool.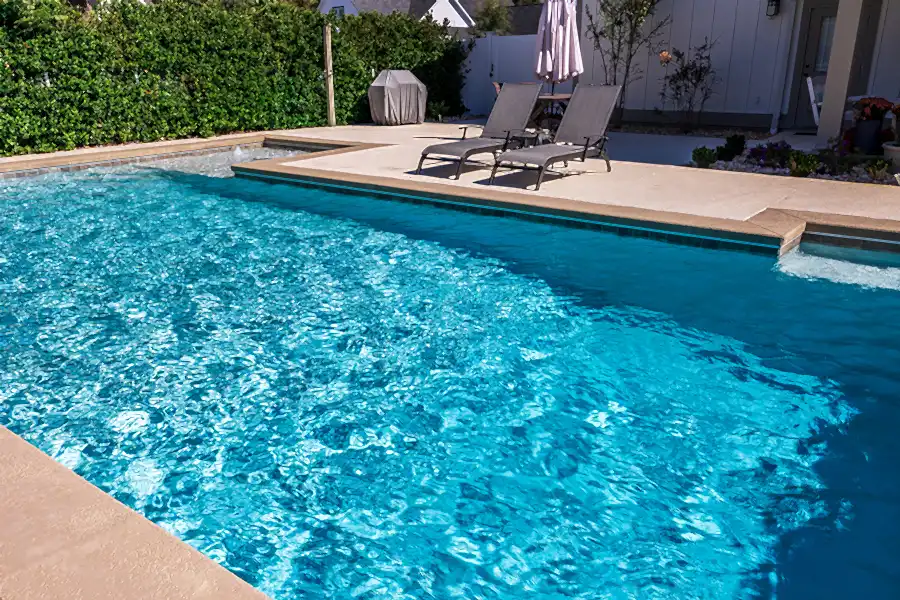 Improve your Property with Modern Rectangle Pools From Atlas
The modern rectangle pool is a healthy, beautiful addition to any home. It is great for exercise, aesthetics, and entertainment. It will complement any style and design of the house, and it can accommodate different types of designs and features too.
If you are still thinking about the type of pool to install, a modern rectangle pool is a great choice. Apart from the benefits mentioned above, it also has a great resale value! However, to ensure you get the best modern rectangular pool you need the right pool constructor. A professional like Atlas Pools can help determine the location, size, and depth of the pool. They will also ensure that the best and most durable materials are used. This will give you peace of mind and ensure you enjoy your pool for a long time!
Do not waste anymore time! Atlas Pools have the required expertise and experience to give you the professional work you deserve. Give them a call today to get started!