Since the introduction of LED pool lighting, it has become the go-to for pools. This is majorly because it offers the most energy-friendly option and lasts longer than the other options available (halogen and incandescent lights).
Not only that, LED lights are also more aesthetically pleasing, and what's more there are different options you can choose from. At the end of this article, you'll be able to make an informed decision on pool LED lights and why you should consider them.
Types of Pool Light -LED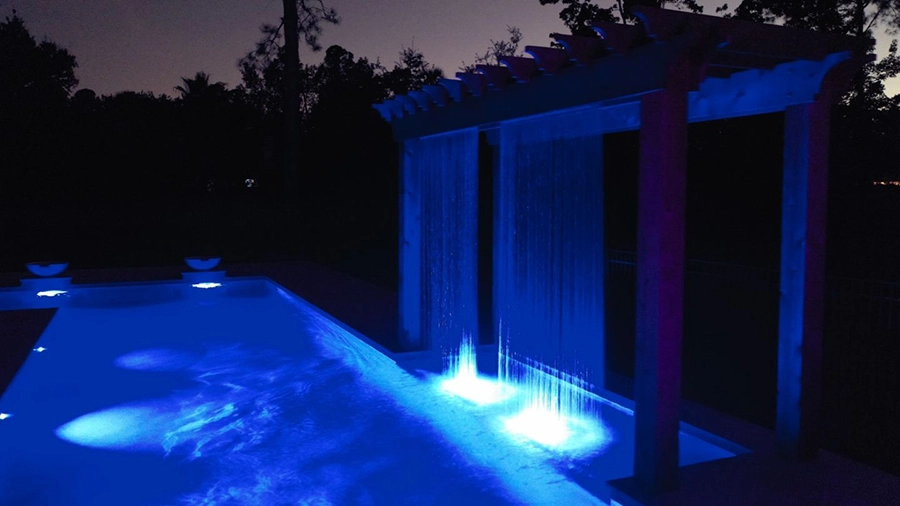 The LED light is an all-time beauty.
They are long-lasting. This means when you buy a LED light, you don't have to replace it for several years.
Their light options are incredible. With the multi-color option, you can create an instant paradise in your backyard. The light creates awesome beautiful and colorful light cast in the water transforming the water from cool to active with the different shades of light.
Here are different types of pool LED lights you can choose from.
The Submersible LED light
The submersible LED light has four lights consisting of 13 LED beads each. This enables it to shine brightly and last longer. It can last as long as 20 hours. It is waterproof, durable and has a memory function. The memory function helps the light to act smartly with use.
The Floating Pool Light
This LED light is superb. It could be inflated to become a light ball illuminating your pool. It is also solar-powered, which makes it more amazing. This means it charges in the afternoon when not in use. It can be used both for indoor and outdoor lighting.
With its four powerful LED lights that change at intervals, you can light up your world. Suitable to be hanged on the tree, attached underground, or allowed to float. The versatility is another reason why it is one of the very best.
Life Bulb 12V LED Color Light
The Life Bulb 12V LED light is designed to be very bright. It features seven fixed colorful LED lights and nine changing lights. You can always theme your light to suit your mood with this light. It is compatible with the Pentair Amerlite series too.
The easy installation process makes it a great choice any day, especially because it comes with a remote control too.
Pentair 601001 5G Intellibrite ColorUnderwater Led Pool Light
With the Pentair 601001 5G Intellibrite color, you have a wide range of colors to choose from and you can also pick the flicker speed you love. It can also help concentrate and direct light to the bottom of the pool to create a great reflection. The effect is superb. This light can give you a 180° rotation, which helps to distribute light efficiently. You can also trust the brightness level to be high.
How to choose The Best Pool Light LED for your Swimming Pool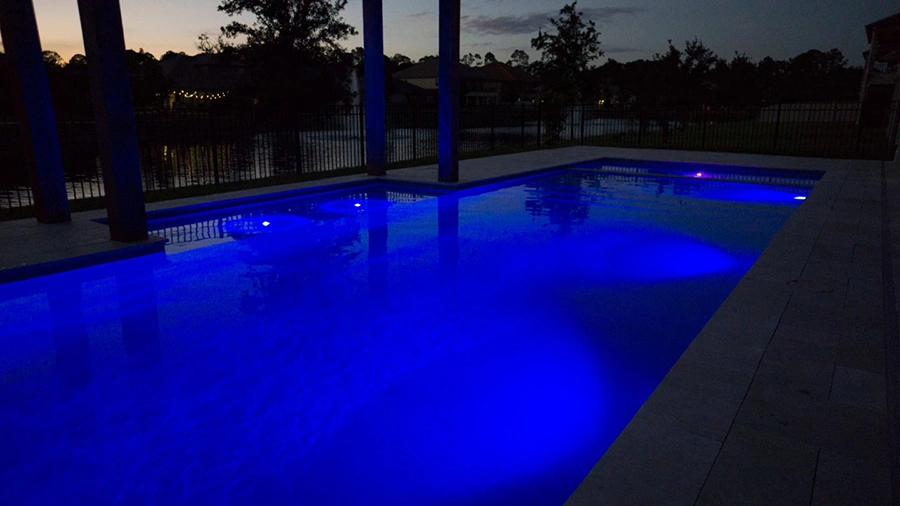 To choose the best pool Light LED for your pool, you have to consider what you need the light for. For beautification, for security or both.
Most led lights perform both functions, but your needs can help you determine how many you need. Here are other factors you should consider when choosing the best lighting option for your pool.
1. How frequently will you be using the Pool?
The number of times you will be frequenting the pool and the time of the day can help you determine the type of LED light that is best for you. If you are a night swimmer, you need more bright LED light to illuminate the pool and the surroundings for safety and a beautiful ambience.
2. Go for Energy Saving
Energy-saving bulbs convert the energy used to light instead of heat. This makes it better for the environment and for the maintenance of the bulb itself. This is one of the major features of LED light that makes it preferable to other types of lighting.
3. Which of your swimming pool features do you want to emphasize?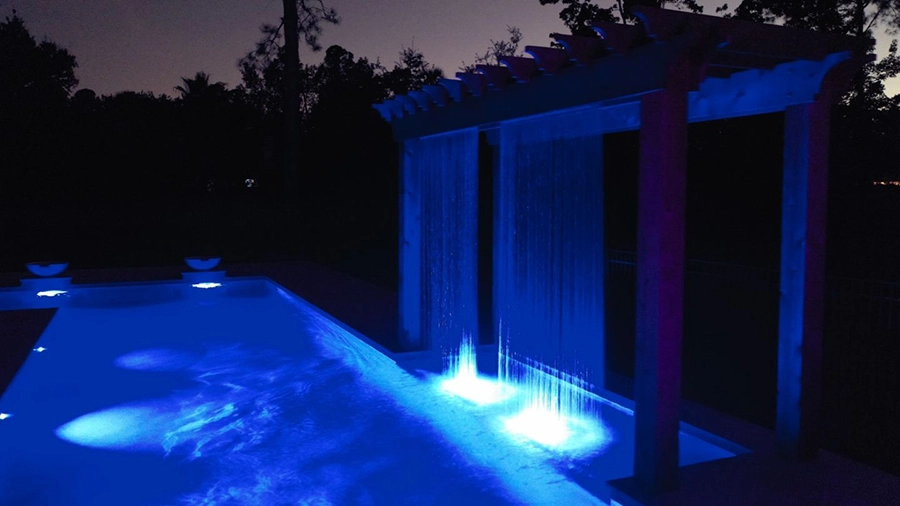 Have you seen a flower or shrub that is lit before? Feels like you are in paradise. Lighting some specific areas in your pool area can add a wow feature. You should consider this when picking your LED light too.
Frequently Asked Questions
Is LED Pool Light worth it?
Absolutely. LED pool light may initially be more expensive to buy and install, but it eventually saves more. It saves both energy and even money. It can last for several years, it shines brighter than other types of light, and it has multi-color options. LED pool light is worth any amount you spent on it and would save you a lot of future expenses.
Can I Replace the old Pool Light with LED?
Yes, you can replace your old pool light with LED. However, if you must do this, you should allow a certified professional to fix it for you.
With professional help, you can change your pool light from incandescent or halogen to LED pool light. You can request certain pool features to be illuminated. Features like the fountain, flowers, and sitting area can all do with some lighting.
Light Up Your Pool Area with LED Lighting
The LED light is the recent light technology that converts the energy consumed to produce light into more light instead of heat. It is energy efficient, durable and brighter.
It is also very beautiful with its many color variations or even single lighting. To get the full advantage of pool LED lights, it should be installed by a professional that knows its onions.
This is why Atlas Pools should be your preferred professional. They are the best in pool remodeling and lighting. With years of expertise and experience, they will do a perfect job and turn your pool from normal to extraordinary. Contact us today for your pool lighting!
Images are from iStockphotos.com