Luxury! That's what the combination of a swimming pool and hot tub will give your yard.
The beauty and class it contributes increase the value of the home instantly! Beyond the class though, it's also highly functional.
It can serve as a place of exercise and relaxation as well as a good place to massage stress out of your joints and muscles. This is why some homeowners consider it a necessity to combine both the pool and hot tub. However, the following factors should be considered when you are designing.
Factors to Consider When Going For A Pool and Tub combo Design
I. Space
The space where both the pool and hot tub will be is an important consideration. First you need to consider if you have enough space for the combo design. The tub should complement the size of the yard and the pool. It shouldn't be too big that the walking space becomes too confined. Neither should it be so small that it is hardly noticed in the yard.
II. Shape
As important as space is, what seems even more important is the shape of the pool and hot tub. The pool and hot tub could come in various shapes like circles, squares, kidneys or dolphin shapes.
What will determine the best shape choice is the purpose of the pool and hot tub. If it's just for aesthetic reasons, you might want to go for the kidney or dolphin shape.
The creativity of the shape is an eye-catcher at all times. However, if the purpose is for hydrotherapy or socializing, you can work with a circle or square shape.
Children are also a major determinant of the shape of the pool and tub combo that you will install. Some shapes are dangerous for kids and could prove difficult for them to play in. But basic simple shapes like squares or circles will be easy for kids to navigate.
III. Materials
The materials you choose for your hot tub mostly determine its durability and the number of accessories you will add. The best material is one that can easily bear the weight of your pool accessories such as the pump and the heater.
The choice of materials ranges from composite to wood or even concrete.
Concrete (Pros)
The material is durable, versatile and strong.
It also allows for color options. You can also tweak it to your desired texture and design.
Cons:
Concrete can become hot. This can affect those that walk barefoot on the deck and reduce their comfort. Also, it can affect the deck cracks after some time.
Wood. (Pros)
Using wood for your pool and hot tub is beautiful. Some of the advantages include:
It is easy to assemble
It is an easy compliment to your outdoor decor.
It gives you a warm and original woody look.
Cons
Expensive. Demands a lot of maintenance, such as oiling, waterproofing etc. You must make sure that the material you opt for is within the limit of your budget. The material should also be able to resist water exposure.
IV. Aesthetics
The visual appeal of a hot tub combo is beyond amazing; especially if you choose a decorative shape, have enough complimentary space in the yard and use beautiful materials for the deck and walkway.
Besides, beauty alone is therapeutic. It can instantly destress you and make the yard your favorite place in the house, not to mention increasing the curb appeal of your property.
Now that you know the factors to consider when choosing a pool and hot tub combo, let's get to the types of pool and hot tub combo designs.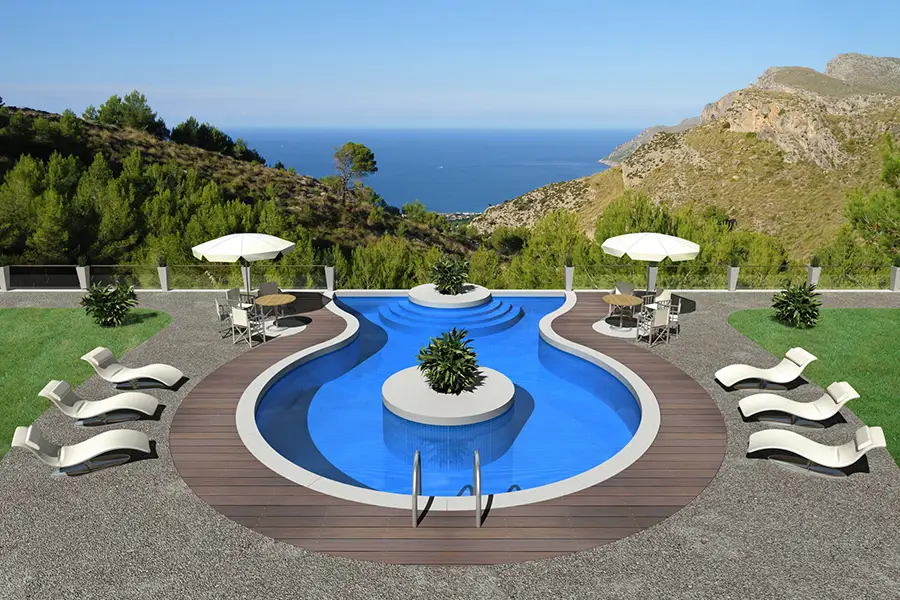 Design Ideas for Pool and Hot Tub Combo
Endless Pool and Hot Tub Combo
With an endless pool and spa, you can enjoy all the benefits of a pool and or spa together. All of these are in your backyard. You can also get an endless pool swim machine that creates current. This intensifies the experience of the swimmer as you try to swim against the current. Some of the benefits include hydrotherapy, exercise, aquatic aerobics, relaxation etc.
Lap Pool and Hot Tub combo
The lap pool is primarily constructed for exercise. It earned its name 'lap' from the purpose of its construction. It is a narrow, long and rectangular-shaped pool where swimmers can swim back and forth in a lap. It is beautiful for a small-spaced yard. With the addition of a hot tub, it could just be the perfect oasis for exercise and recovery. The therapeutic essence is endless. It will help a fitness enthusiast to keep fit. It is also a great getaway for seniors that want to exercise without involving intense workouts.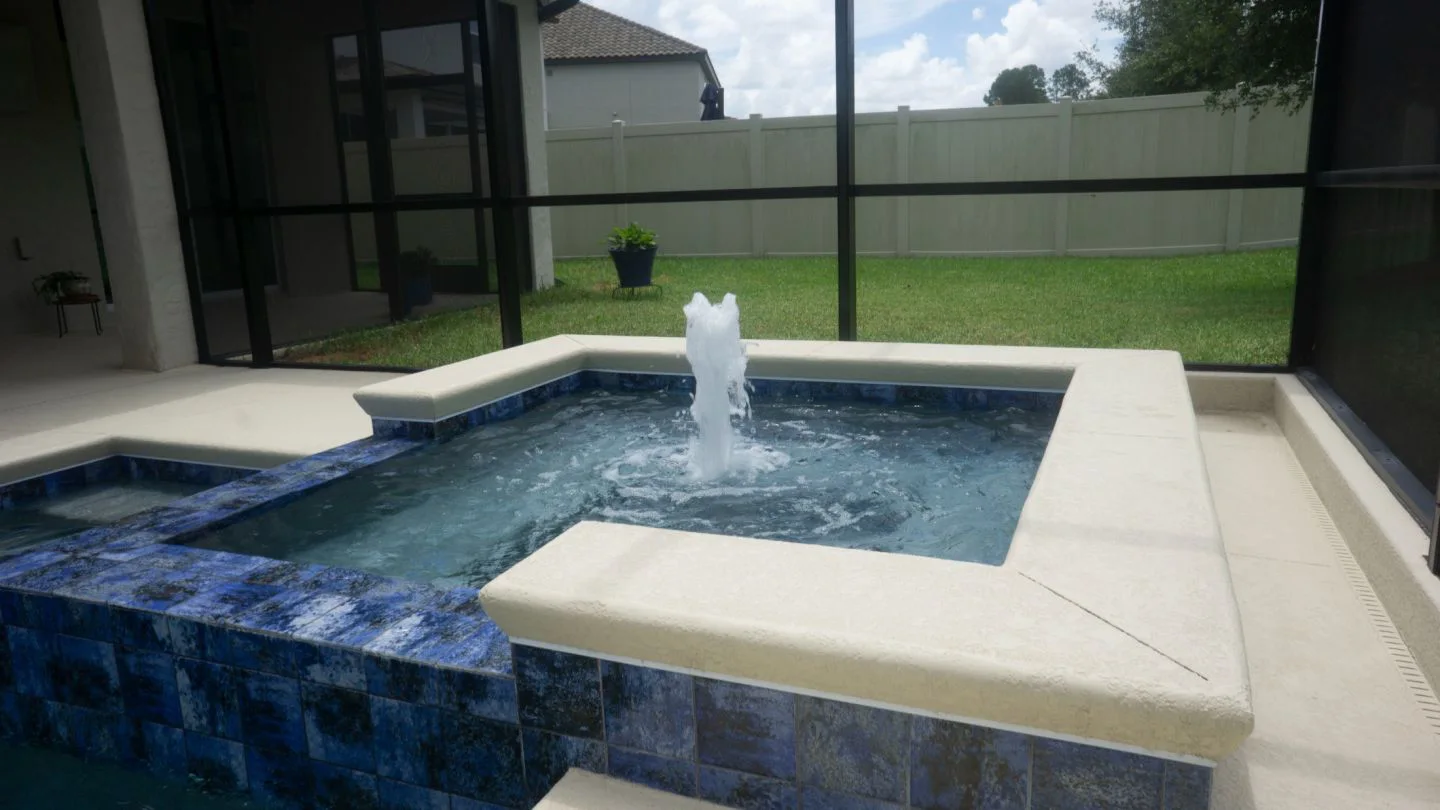 Inground Pool and Hot Tub Combo
This is also known as the pool spa combo. They are usually permanently built right into the ground. While you may use different materials in constructing an inground pool, the most popular is concrete. Adding a hot tub with an inground pool changes everything for the pool. It allows you to enjoy a spa treatment right in your yard. Some of the benefits of an in-ground pool and spa combo include flexibility and safety. It's safer for kids and seniors and you can also add various water features, such as, water jets, fountain, marble and rock add-ons.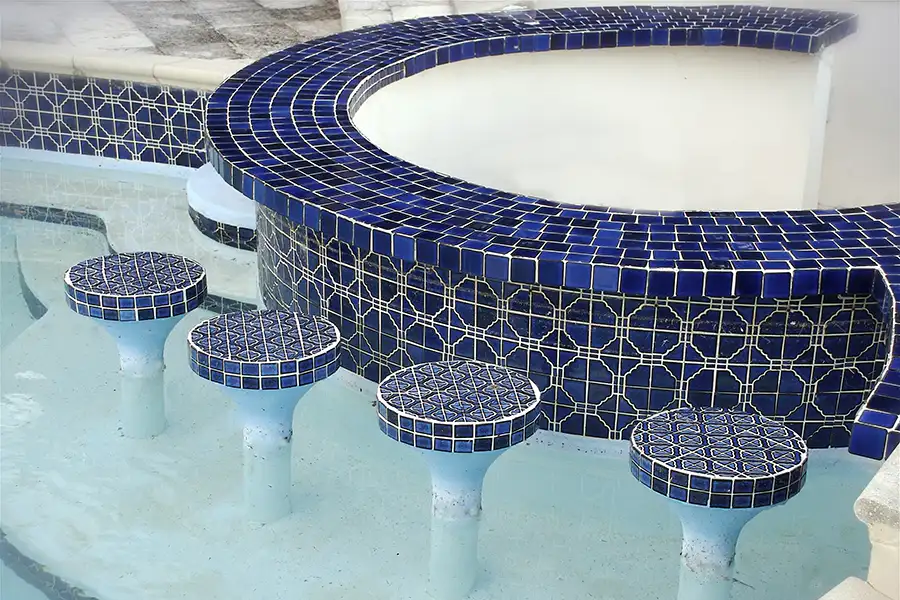 Swim-up Bar Pool and Hot Tub Combo
The swim-up bar pool is the ultimate pampering you need. Literally! It is a coin of two sides. The wet and dry sides. You can place your bar stools on the wet side so that you and your guests can swim up and enjoy drinks while you are still in the pool. On the dry side of the pool, there is an opportunity to barbecue and enjoy grilled steaks.
The benefits of a swim-up bar include
a). Provision of premium entertainment for you and guests. They can enjoy their drinks while still in the pool.
b). Children can also enjoy their time out. It gives kids the opportunity to enjoy the pool area as well as the adults.
c). It could help save space. You may be wondering how? It has a dry side where you can do all the kitchen stuff, this means you won't need to create extra space for kitchen activities again. Thus saving space!
Plunge Pool and Hot tub Combo
With the decrease in yard space in most homes, most homeowners gladly opt for the plunge pool. The plunge pool is a small-sized pool with all the benefits of the larger pool. Most plunge pools have a small sitting area attached to them for sitting in and relaxation. When the plunge pool is combined with a tub, it increases the appeal of the pool from just an ordinary pool to a relaxing resort with loads of benefits. Here are some of them:
a). Reduced stress.
Taking healthy laps in the pool and then soaking your body in the hot tub afterwards will instantly relieve your muscles of the day's stress.
b). Exercise.
You will naturally be more encouraged to engage in hydro exercises that are good for your overall health as well as good blood circulation.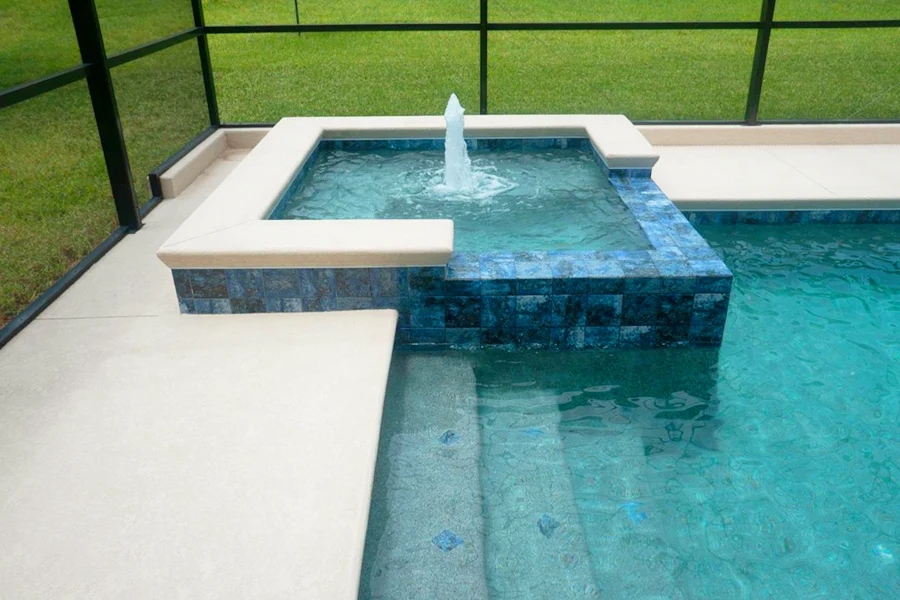 Build Your Pool and Hot Tub with Atlas Pools
Choosing the right shape, size, and materials for your pool and tub combo could be a herculean task if you are not a professional. You don't want your dream of a luxurious pool section to become a nightmare. If you want to enjoy the relaxing effect of a hydro massage in your tub after a lap in the pool or entertain your friends, then you need a professional like Atlas pools. Atlas Pools has the right expertise and experience to help you with any design of your choice. Schedule an appointment today and watch your dream pool and hot tub combo come to reality!