Modern rectangular pools are increasingly becoming popular among homeowners.
If you're thinking of getting one or maybe just curious, then this post is for you. This article examines different rectangular pool designs and some of the factors you need to consider when choosing one.
Factors to Consider when Designing a Modern Rectangle Pool
Location
The part of your home where the pool is located is very important. You want the place to be easily accessible. You also want privacy. It's not everyone that has access to your home that should have access to the pool.
Asides from privacy, you also want to consider how spacious your yard is. You want the pool to be located where there would still be enough space to walk around and enjoy the view or play with friends and family.
The shape of the pool matters too. This is why the rectangular shape is an all-time yes! It is sleek, beautiful and long enough to allow you to enjoy your swimming time.
Size
Another major consideration is the size of the pool. The size of the pool will determine the land mass the pool will occupy. You would need professionals to help measure your yard to determine the right size of the pool. Usually, the modern rectangular pool is two times longer than its width. There is also a 2 feet walkway by the sides.
Depth
There are several factors to put in mind when considering the depth of a modern rectangular pool. Some of the factors will be if you have children or not. If you have children, you will need to make the pool more shallow to accommodate them. However, the standard depth for most modern rectangular pools is 2 meters.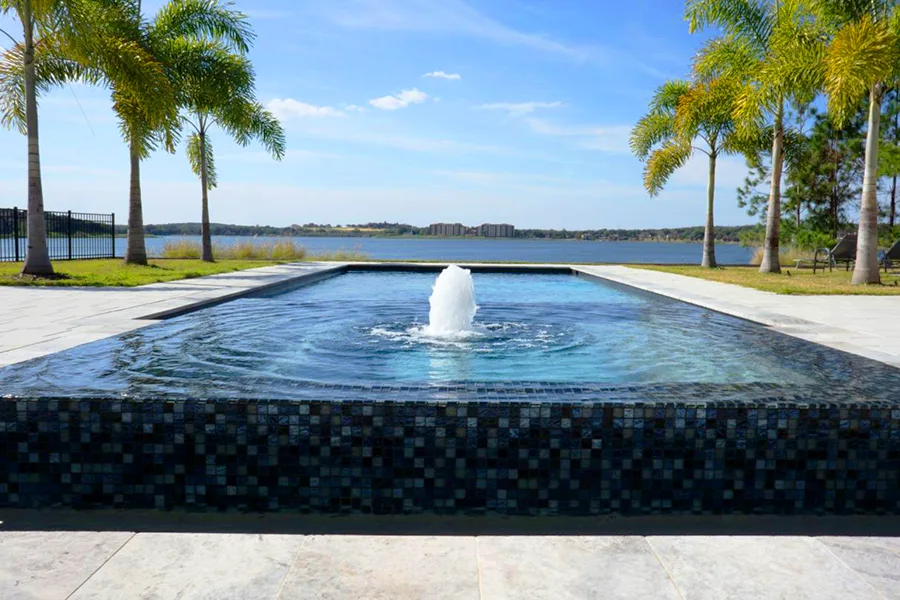 Popular Modern Rectangle Pool Designs and their Features
Modern Rectangle Pool With Side Square
This type of pool is long, sleek and classic. It allows for long laps. If the pool features a spa at one of the corners, it makes it even more interesting. As this will allow for a lazy soak in the spa part of the pool.
The Inground Rectangle Pool
The modern inground rectangle pool has well-defined angular sides. The shallow ends are usually 3" deep and the deep ends are 7 to 8" deep.
This pool is a statement to your yard and it's safe for you and your children. It could also accommodate some adjustments to make it more exciting if you wish.
Infinity Edge Rectangular Pool
There is a reason this pool is named infinity edge. It is in the way the edge seems to be endless as it blends with the environment. The way the water spills over the edge makes it a unique sight to behold.
If your pool now oversees a lake or ocean, it gives the appearance that the pool is synced with the ocean. This sometimes may feel like the 8th wonder in the world. If you want a unique and glamorous pool, then you should go for an infinity-edge pool.
Led Lightened Rectangle Pool
Another twist you can add to your rectangular pool is the led light. Nothing says 'wow' more than a well-lit pool. It instantly transforms your regular pool into an amazing wonder. With led lights, you can easily transform your night into a multicolored bright exciting night by the pool. The light allows you to play with as many as 5 to 8 different colors.
You can also use the LED light to highlight some beautiful features of your pool, such as the waterfall, the spa or the statue.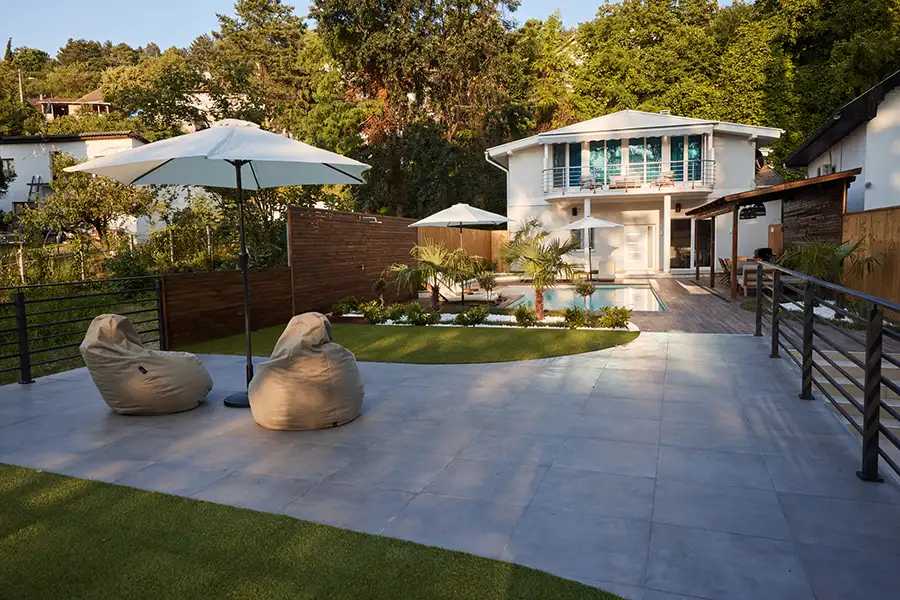 Rectangle Pool Featuring Patio Umbrellas
Another way to spice up your modern rectangular pool is with the use of Patio umbrellas.
It's simple, classic, and affordable. What's more, it will surely give more life and energy to your pools.
Strategic places you can put the patio umbrella are the tanning ledge of the pool, the spa area or the loveseat section if you have one. Make sure you choose brightly colored and bold umbrellas for the best effect.
The Modern Rectangle Pool with Spa
The modern rectangle pool with a spa is the new way to enjoy luxury. The modern rectangle pool is already sleek and smooth. It allows you to enjoy long laps of swimming. An additional way to add a greater shade of relaxation to the luxury is to feature a spa. With your hot tub, you can bring some resort comfort to your home. You can enjoy hydromassage, relieve your muscles and joints from stress and enjoy well-deserved sleep at night.
To get the best visual appeal from your spa, you have to pay attention to its placement in the pool. You could have a round shape to contradict the long lines of the rectangular pool or you could have a square shape that compliments it.
Whichever shape you choose, it has to blend well with the pool to make it visually appealing. You can also jazz up your entire pool region by having the spa place in a semi-exterior way.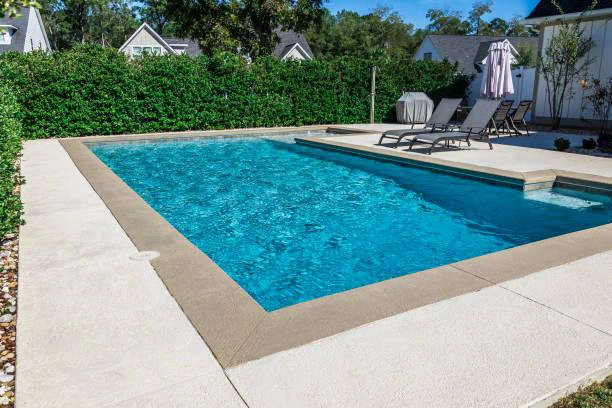 Build Your Modern Rectangular Pool with Atlas Pools
Modern rectangular pools are fast becoming the go-to for most homeowners that want a pool in their yard. This classic and sleek design is becoming popular because it consumes very little space. The slim long length of the pool allows homeowners with limited yard space to still enjoy the luxury of a personal pool.
Asides from this, the modern rectangular pool is great for exercise and recreation. It also allows for a lot of creativity. You can add things like a spa or led lights to instantly increase the visual appeal and entertainment it provides. This is where Atlas Pools comes in. When it comes to professional building and installation of pools, Atlas Pools come to the forefront of those you can trust. They've amassed years of experience that have helped them to hone their skills perfectly. You can trust them to deliver beautiful, well-structured pools that will stand the test of time. Schedule an appointment today to get started!