A pool is not just a functional addition to your home to make it a lot more comfortable and fun. It can also be a major feature of your home that will keep guests in awe.
However, not all pools will give your home the aesthetic finish you want. This is why many homeowners consider building an infinity edge pool. The question then is what is an infinity edge pool and how do you build one?
What Is an Infinity Edge Pool?
An infinity edge pool, also known as a vanished edge, negative edge, or zero edge pool is a kind of reflecting swimming pool that creates an illusion of water without boundary.
The water flows over one or more edges to appear to merge with a larger body of water or with the sky. An infinity pool might also be designed to overlook city views or natural landscapes.
The walls of an infinity edge pool are structured to slope downwards from the pool to create an illusion of dropping off and forming a waterfall. The waterfall is directed into a catch pool and then pumped back into the pool.
Although an infinity edge pool is found primarily in hotels and resorts and other luxurious properties, there are infinity pools for homes. This brings a convenient twist to experiencing luxury and recreating fun.
Most times when people visit luxurious resorts or hotels, they want to recreate that experience or at least similar at their homes too. This is why infinity pools for homes are becoming increasingly popular.
Top 5 Best Infinity Edge Pool Ideas
Infinity pools are both design and engineering intensive. To get that breathtaking view in your backyard, you are going to need some ideas to work with. However, before considering a specific design for your infinity pool, there are certain things that you must keep in mind:
Cost
An infinity pool is a luxury, meaning it is expensive. If you do not own a property that is luxurious or suited for that kind of structure or you do not have the money to finance the construction without issues, then you should consider investing in something else.
Topography of Your Property
The natural physical features of the property you want to construct an infinity pool on would determine whether you can have such a structure in place and how much it would cost you. The best thing is to have experts carry out some field investigation and then advise you on the best structure your property can support.
Features You Want
Another thing you must consider are the features you want to be fitted in your infinity pool. Everyone already has a vague idea of what fun is to them and what they would need to have fun. In other words, an infinity edge pool design will differ for a nature lover and for a hot tub lover.
There are many architectural masterpieces that have been created for residential infinity pools and we have compiled a list of the top five infinity edge pool ideas for you:
The Infinity Pool of the Hot Desert
As seen in the image below, this pool is in a unique position in the desert of Phoenix, Arizona. Featuring a wall that spills over the five-foot wet wall where there is a trough underneath the limestone, the pool is absolutely breathtaking.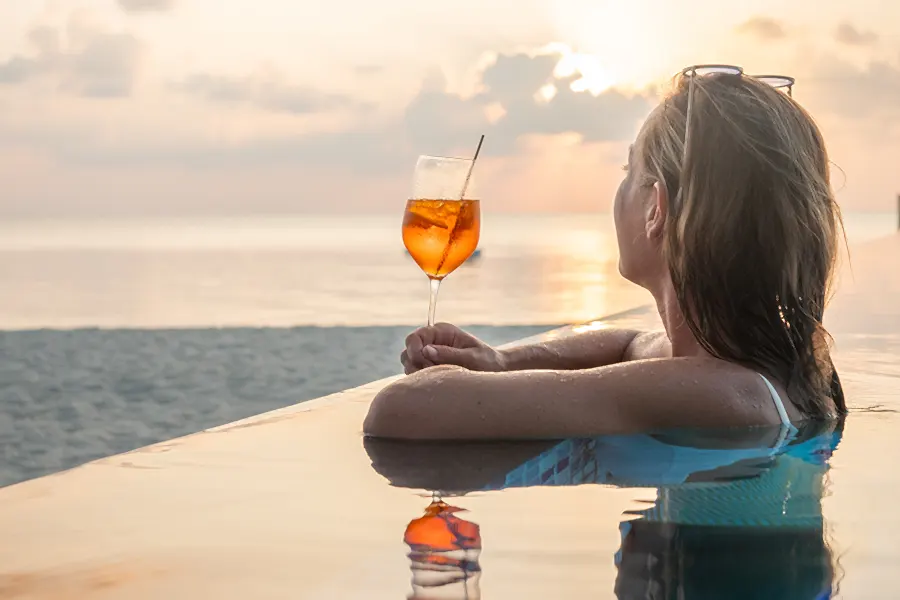 The Ocean Illusion
This infinity pool design will be a perfect fit if you live close to the ocean or at least have a view of it. Ocean infinity pools appear to flow right into the ocean, giving it an appearance of endlessness.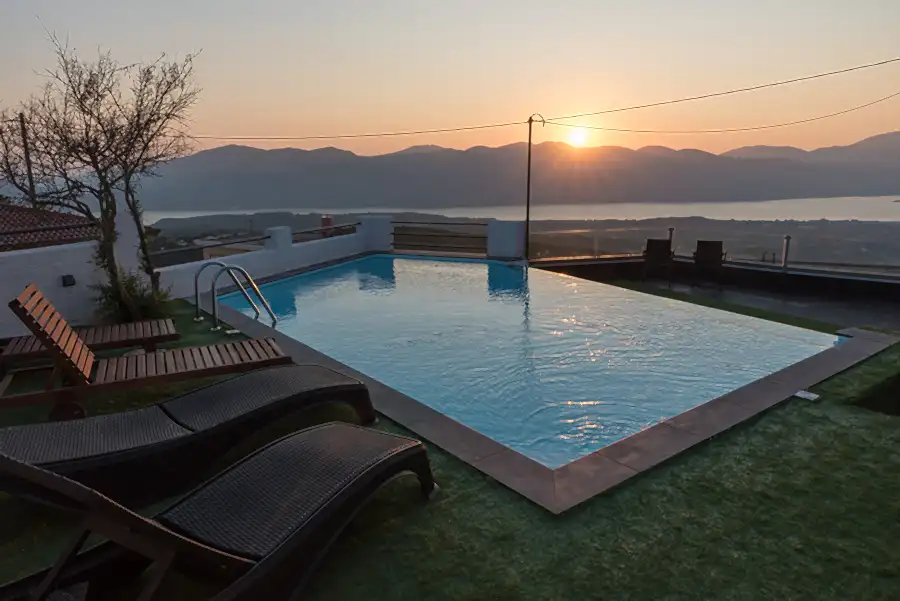 Hot Tub Infinity Pool
You can also enjoy the relaxing feel of water on your body even on a chilly day with an infinity pool with a hot tub. An additional feature that would create an even better aesthetics is a fire pit right in the middle of the pool.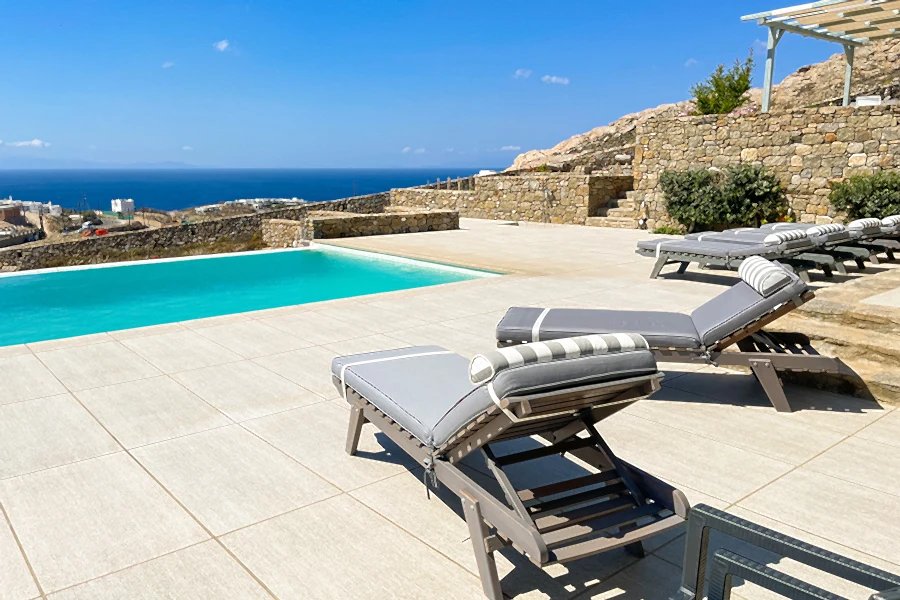 Hillside Infinity Pool
The hills and all the elements of nature smiling back at you whenever you sit to relax by your pool is certainly worth all the dollars this beautiful pool costs.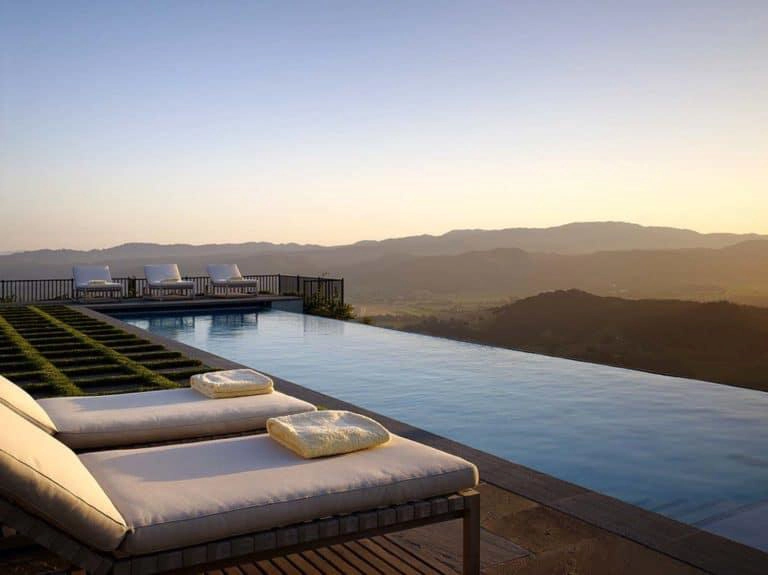 The Waterfall Infinity Pool
There's nothing much to be said about this design. A waterfall and an infinity edge? That's luxury at its best.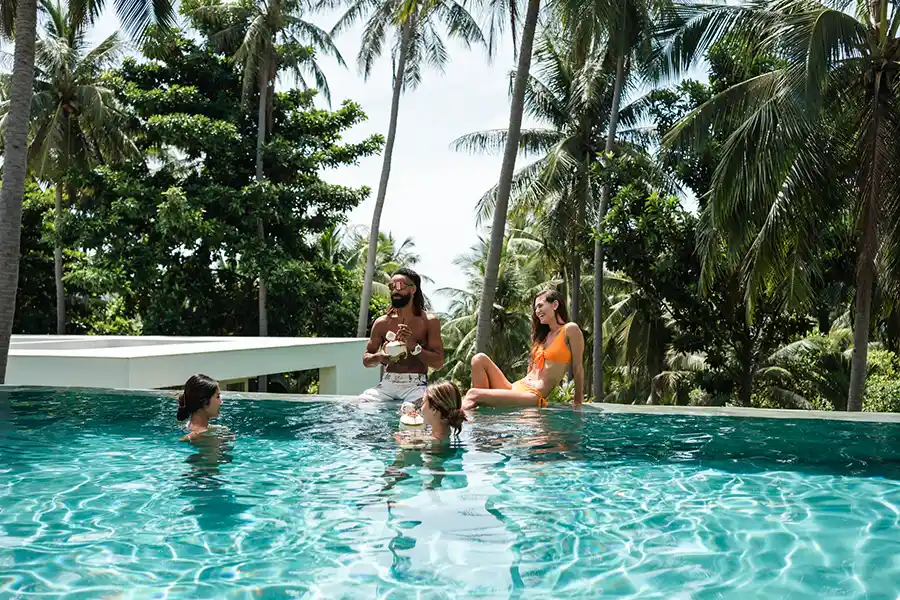 How Much Is an Infinity Edge Pool?
Building a pool with an infinity edge or adding an infinity edge to your pool no doubt will set you back a couple of thousands of dollars. But the result will always (if you use the right contractors), be worth it.
According to Forbes Home, on average an infinity pool costs about $100,000, but the price can differ significantly depending on the size, features, topography of the place of construction, the material used (fiberglass or tiles), and even shape.
These factors can either bring the cost down to about $90.000 or take it up to about $130,000 or more depending on the type/amount of extra features you want. The estimated costs above do not include extraneous costs such as the cost of landscaping, permits, lighting, the cost of filling the pool, routine maintenance, cleaning, and pool chemicals. Also, depending on where you live, you might be mandated to install a security fence.
Finding Custom Pool Builders for Your Luxurious Infinity Pool
An infinity pool is a luxury project. Not every pool contractor has the manpower or structural capacity to take on projects such as infinity pools for homes. Unfortunately, many would advertise that they do.
An infinity pool is a huge investment and it would be a nightmare for anyone to end up with a non-functional pool or a pool that just doesn't look right.
When choosing a luxurious pool builder, you must pay attention to things like their reputation in your locale, the level of professionalism they bring into their interactions with clients, and their ability to understand your design needs and translate it into a working system.
Atlas Pools is Florida's #1 trusted luxurious pool builder in Central Florida that has been serving thousands of families for nearly 45 years. Our promise is to handle all your luxurious pool needs with the highest level of professionalism and quality assurance possible!