Half the fun with an inground pool is related to a nice functioned pool deck! If you are wondering about how to build a deck around a pool, this article is for you!
A pleasure of having a simple, affordable inground pool is to enjoy outside-cooked meals or delicious drinks with the people you love while sitting near the appealing blue water or simply reclining to get that ever-beloved summer tan you pursue. Therefore, having a wrap-around deck for your inground pool for those activities would increase its glamour, usefulness, and overall value.
A dreamy pool deck can improve any inground pool.
Whether you are currently having a non-deck above-ground pool or on your pool-building journey, this article will surely provide necessary information about how to get yourself a lovely, well-functioning, and suitable pool deck for many uses with family and friends.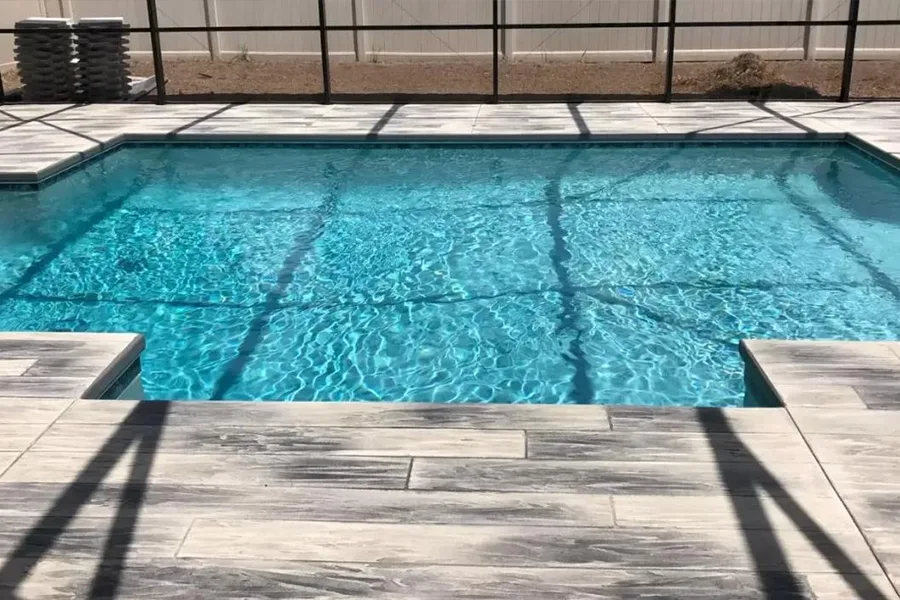 Things to consider before building a pool deck around a pool
Most swimming pool deck ideas are too challenging or complicated for the average pool owner to build since they differ from a deck off the side of your home or patio. As a result, designing a pleasing pool deck for an inground pool is not as simple as it may appear.
As a result, you need carefully decide whether to go the DIY route with internet courses and resources or to employ professionals like Atlas Pools Florida. However, regardless of which option you choose, there are some similar aspects to consider first.
Plan carefully first: Make sure to take the essential measurements of the deck's proportions to scheme width numbers for a pool deck drawing so swimmers can walk comfortably later. You must also consider what will be included in the budget, such as decking material (composite, PVC, or wood), fencing work, etc. Remember that different materials might lead to minor contract deck applications.
A permit from the local building codes department: Similar to creating a pool, permissions from relevant authorities are required for pool deck installation, which would also involve mandatory fencing work for safety reasons. Because standard pool height must also adhere to municipal laws, it is recommended to construct the pool first before adding the deck if you are installing an above-ground pool. You can also seek permit guidance and requirements from a building inspector.
Additional deck-applying notes: It is recommended to run decking boards beneath the pool rails for faster liner changes in the future and to build a separate building on the deck's side to house your pool equipment (pumps, filters, etc.) rather than beneath it for more convenient maintenance.
How to build a deck around a pool step by step
When all considerations above have been cleared out, it is time to assemble a wrap-around pool deck to achieve the enjoyment of your backyard.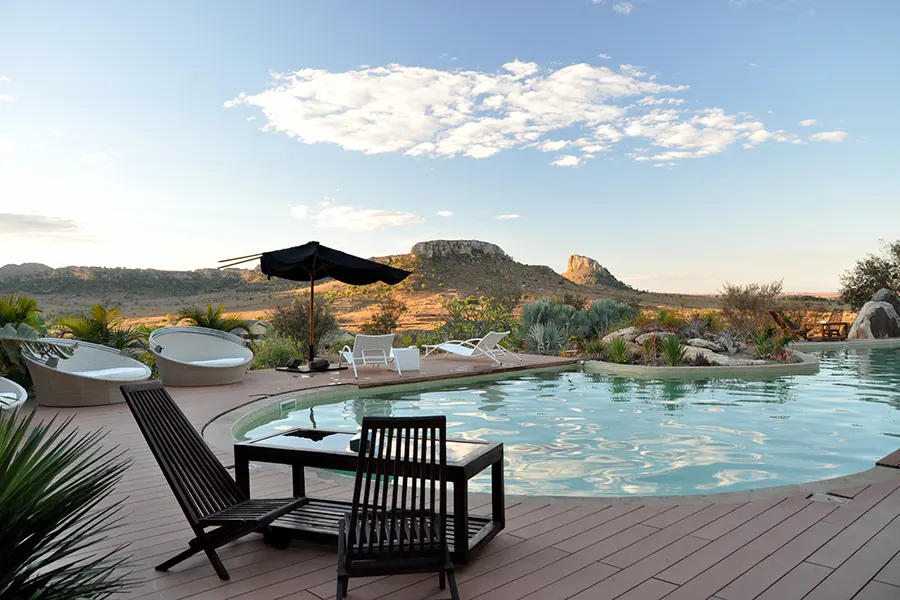 Whether it's your hands or the pros handling the deck, here are the basic concept for the must-followed five steps to properly acquire one.
Step 1 - Install the posts and piers
Typically, the floor-joist frames are supported by a series of 4 × four posts placed in precast concrete pier blocks.
It is critical to level the earth beneath all footings. For added stability, dig and pour concrete foundations at the site.
Step 2 - Set up the deck framing
The floor framing surrounding the pool is typically made up of 18 frame pieces with two parallel sides, and two angled sides that are screwed into the side of each internal pier that faces the pool. It is preferable to utilize 2 x 6s to construct 17 identical treated deck supporting frames, with the 18th manufactured to fit after the other frames are joined around the pool's perimeter.
Use reinforced corner connectors to attach the four perimeter boards to accelerate the application of the individual frames. Then, the middle support joist is mounted by toenail joist hangers vertically. If the deck is loftier than 30 inches, build 2" x 4" diagonal braces between the piers, which should run from interior to exterior and parallel to the pool's edges.
Step 3 - Apply the decking
After you've finished with the footings, you may lay 2" x 6" decking from the pool's outside support, which should be about 1/2 inch away from the pool's edge to allow for expansion. It is best if you taper them so that they all radiate from the center of the pool, which there are several ways to achieve that you can refer to online. The board's edges that rest against the pool wall will also be modified if required.
Then, examine the area where the decking meets the outer edge of the perimeter supports and trim any areas where the decking protrudes over the supports with a circular saw.
Spacers must be used between decking boards to allow for drainage and expansion.
Step 4 - Position the guard rail
Guardrails will be installed after the deck planks are finished to improve security and aesthetics.
Pre-cut railing posts can be purchased at a local home improvement store and installed at each joint where two floor-joist frames meet, securing each with long galvanized lag screws. Then, cut and screw a 2 x 6 to the right length to make the horizontal rails between the posts. Make a cap by cutting and screwing a 2x4 to the top of the 2x6 rail, and fill the space under the railing with 2 x 2 plumed balusters, which can also be bought pre-cut.
Step 5 - Assemble the stairs
The final part is to create the steps that lead from the deck to the ground, and you can save time by using pre-cut stair stringers.
Place the bottom ends of the level-assured stringers on concrete patio blocks to keep them from sinking into the earth and soaking up rainwater. Screw the stringers' upper ends to the floor joists. Screw 2 x 12 boards to the stringers to make the stair treads.
Interior stringers can be added to support your stair treads. One stringer for every 2 feet of stair treads is the recommendation.
Additionally, if your backyard pool frequently has young visitors, you may wish to construct a gate for simple supervision and safety measures.
Atlas Pools - Your trusted builder located in Oviedo, Florida, for all things pool-related
And there you have it! We hope the list above has given you an idea of how to create a deck for your above-ground pool.
Of course, this is a project that many people may complete on their own, but it is always advisable to consult a professional builder for accurate measurements. And who better to turn to if you own an above-ground pool in Florida than Atlas Pools?
We have many accomplishments for many homeowners across Florida as a proud Oviedo-based family pool company with over 40 years in the market. With great talents on our hands and faith in our hearts, you can be confident that your pool needs will be met to perfection.
You can reach us at (407) 326-6207, or visit us at 310 W. Mitchell Hammock Road, Suite 400, Oviedo, FL, Monday through Saturday from 8 a.m. to 5 p.m., or submit your information on the web for your quote.