"How long does it take to build a pool?" will not be the main concern if you work with an excellent pool building company such as Atlas Pools of Central FL, so let us help you answer this question!
Time management plays a crucial role in any construction project, including pools. Whether you are planning for a small and cozy backyard pool, or a large and luxurious pool, both will take some time to construct.
Let's dive into it now!
Estimated Pool Construction Time From Start to Finish - About 5 to 10 months.
• Before The Pool - Designing and Obtaining Permits - About 2-3 months
• The Pool Planning - About one week
It is vital to contact a professional pool-building team to make sure that your overall pool design will be ideally visualized and executed.
Although advanced technology is there to help with the design process, be sure to converse with your design team thoroughly about your design wishes, preferred materials, estimated start date for construction, budget, etc., in order for the pool plan to run smoothly.
We highly encourage customers to do some research ahead of time by looking at popular pool designs on the internet first. Or, feel free to ask your assigned pool designer to provide some ideas to help create a strong visual of what you would like.
• Obtaining Residential Swimming Pool Permit(s) - About 2-3 Months
Every individual city/town has its own unique laws and regulations that must be followed regarding construction projects. Not even the Florida Keys and mainland Florida have the same ordinances!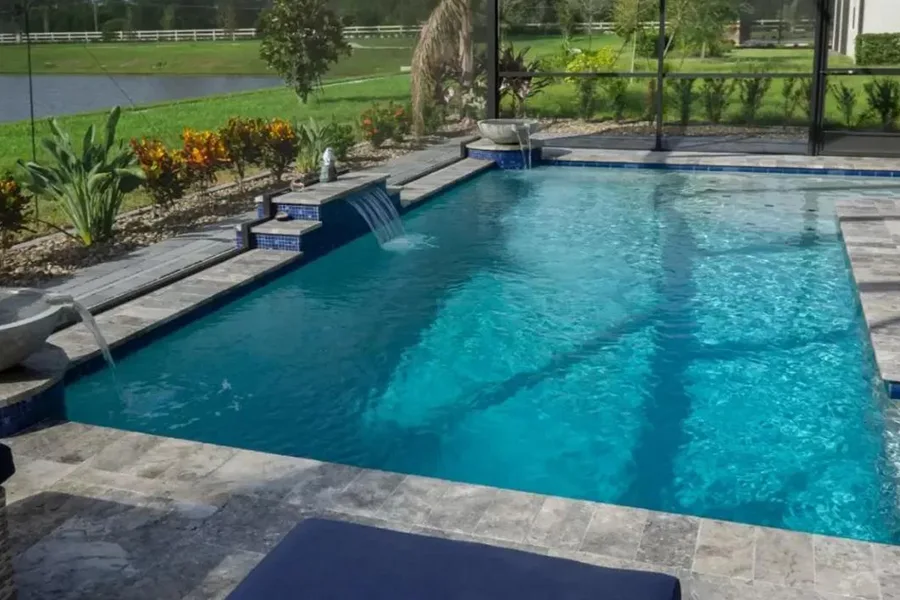 Depending on your location and the involved custom pool/background additions, time may vary from 2-3 months for you to obtain a required residential building permit. Unfortunately, during this time all you can do is wait until it is received. You and your designer do not have much power in terms of state and/or city processing times, but stay positive—it WILL happen in time.
• Digging the Pool - Excavation, Installations, and Tiling - About seven weeks, Excavation - About one week.
After getting permission from your state authority and the pool layout, the time has finally come to build your pool!
The first step: excavation. This is where your pool company will use heavy machinery to dig and level the area for pool installation. Aka, "breaking ground."
There are many obstacles at hand here such as the accessibility of your yard, weather, installed underground utility lines, objects in the background, etc. Therefore, it might take a week or two for the excavation to be completed.
• Plumbing and electrical installation - One to two weeks
After the overall ground digging for the pool frame is completed, pool builders will dig more trenches for the pool's underworking.
Plumbing/pipes works are incredibly critical as your hydro lines need to flow properly for your pool's filter, pump, and any other water features you may add. So, your builder will set them up properly from the beginning.
After that, the pool's circuitry will be installed, as well as any lines needed to power heaters, lighting features, backyard amenities, and other fixtures.
This process could take up to two weeks if your swimming pool is large and more complex.
• Pool Foundation Installation - One to three weeks
Depending on your pool size, - the pool foundation pouring and curing method could vary. The good news, you will start to see your pool's exact shape much better after the first few days.
• Waterproofing, Tiling, and Coping - 2-3 weeks
This is another part that will require a time commitment. The tiles and coping material you choose here also play a massive part in the aesthetic of the final product, so be sure to plan it out carefully.
• After the pool - Additions and Pool Preparations - 2-3 weeks/p>
• Landscaping and additional customization - 1-2 weeks
Based on your collaborated design with your designer, more can be added to the pool area such as lighting, seasonal decorations,additional features, etc. The pool patio decking will also be handled at this step.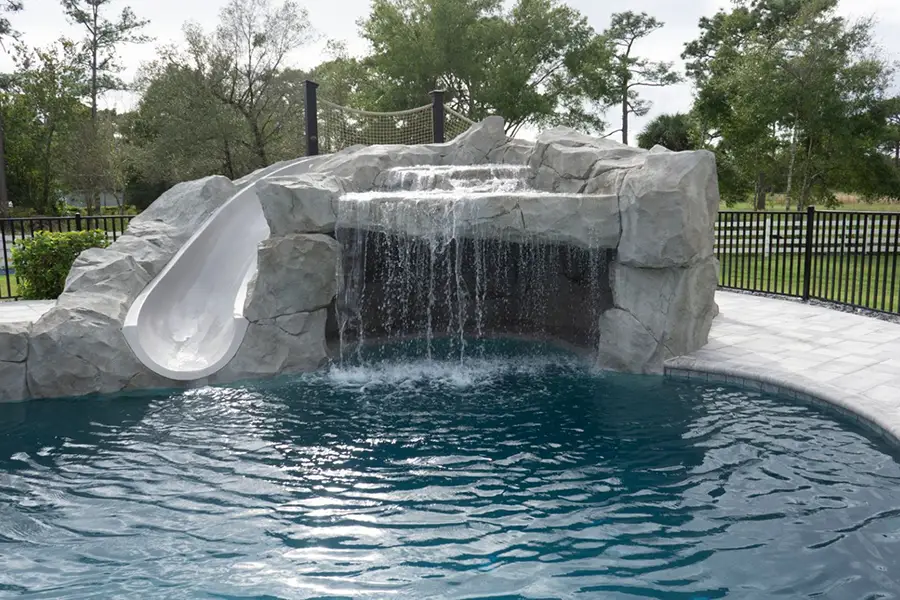 Also, as stated by the law of the state of Florida, all residence swimming pool owners MUST have a safety barrier fence surrounding their pool for accident prevention, so you must add a pool fence to your "additions" list as well.
• Final preparations - 1 or 2 weeks
It is almost done! Just some more work left before you can dive into your brand new pool!
A final inspection from the building codes department might be required when the pool is almost finished. This can take a few days.
Make sure to factor in time for any necessary clean-up and final pool touches. After that, it is time to fill the pool with water, install the pool pump, filter, heater, and add any necessary pool chemicals your contractor recommends.
And that is it! Your pool is completed for your family's leisure! We hope that you have found all information needed in this article to help determine how long it will take to build a pool.
Start building your dream pool now with Atlas Pools of Central FL - Florida's #1 Pool Construction Company for over 40 years!
If you are a Florida homeowner looking to install a pool for the sunny summer months, connect with us today to get started!
With more than 40 years of providing superior custom-designed pools to residences across Central Florida, our Oviedo-based team will continue to use our excellent skills and knowledge to consult, design, and install swimming pools of all shapes and sizes.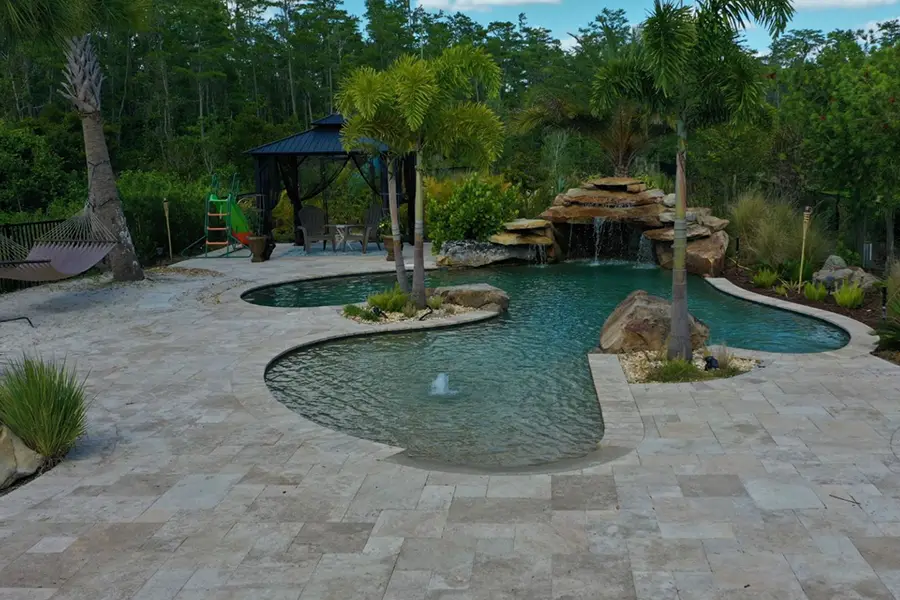 QUALITY is Atlas Pool's main priority!
We are open from 8 AM to 5 PM, Monday to Saturday, at 310 W. Mitchell Hammock Rd, Ste. #400, Oviedo, FL 32765. You can also send your questions about the swimming pool at This email address is being protected from spambots. You need JavaScript enabled to view it.or call (407) 366-4600 to speak with a pool consultant right away.