It is best to leave the installation of a concrete pool to the pros, but knowing everything about the process could help you better prepare for what needs to be done.
Being a fan favorite over multiple decades thanks to its high customizability in shapes, and sizes and an exceedingly long lifespan if maintained carefully and correctly, a concrete pool is an ideal choice for various pool designs.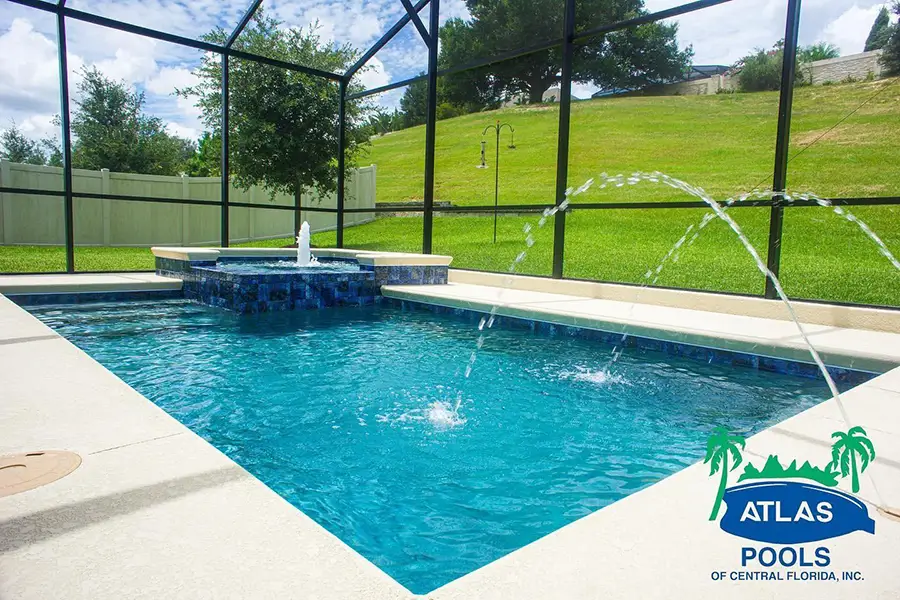 Although it requires a budget, building effort, and maintenance, a good-quality concrete pool will significantly upscale your property's value and provide homeowners a wonderful relaxation area.
So, if you have a concrete pool in mind as an addition to your home, this article will provide valuable information about all things considering an ideal concrete pool installation and more.
Things to consider before the concrete pool installation
There are two primary elements that a future residence pool owner needs to have before getting to the construction of a pool - a complete pool design and a residential pool building permit from the municipal authority, which could take about 4 to 8 weeks for total completion.
Once both of these are ready it is best to collaborate with a highly trusted professional pool building team like us here at Atlas Pools since handling the construction of a concrete pool on your own can come with more than a few headaches.
Regarding the pool design, you need to be specific with the building team in every detail possible, such as material choosing or any special customization. You can make sketches of the pool before meeting with the team to convey these ideas in more detail.
Make sure to choose an ideal location in your yard to construct a swimming pool. Some elements like the landform, the "setback" (the minimum required distance that your swimming pool has to be from your property line), and surrounding obstacles (trees, rocks, etc.) could hinder the process.
As for obtaining a permit, be prepared to play the waiting game. Depending on where you live, there may be different ordinances compared to other places, which could prolong this process up to 8 weeks, as not every part of Florida has the same building regulations as the others. Moreover, it is almost entirely up to the authorities to approve the permit.
How to build a concrete pool
After all the paperwork has been finalized and your permit has been issued, it is time to build the actual pool in your pool-building journey, which could take about 8 to 10 weeks for the work to be finished.
In figuring out how to build a concrete pool - inground pool, concrete lap pool, spas, etc., the timing for each could vary depending on the style and the design aspects you favor since every project is different.
Nonetheless, after finalizing the pre-construction pool layout, here are the essential steps to build a concrete pool.
Breaking ground - Up to 1 week
First and foremost, the pool team will begin digging and leveling the designated yard area using heavy machinery so that the pool could be installed at a later stage.
How long the excavation takes will depend on the weather, how easily your yard can be accessed, your underground utility lines, background objects, etc.
It is an essential step for building inground pools. However, if you decide to build an above-ground pool, this step could be shortened.
Installing plumbing, gas, and electricity lines - About 1 to 2 weeks
Besides excavating the main hole for the pool, pool constructors would also do extra digging work to bring in the necessary pipelines, gas, and electricity lines. They are for
the filter, pump, heaters, circulatory system, and other water and lighting features for the pool, the deck, and the patio during your usage.
Only one small error could lead to unnecessary repair issues when using the pool in the future. This step requires high responsibility from the constructors. When working with Atlas Pools Florida, this is something you wouldn't have to worry about as our team is highly skilled and takes great precautions in the quality of the installation.
Pool frame and concrete - About 3 to 4 weeks
The final step before pouring the concrete is assembling a steady steel frame for shaping the concept. Without the rebar grid and the steel, the concrete structure would be more fragile due to its lack of tensile strength. Therefore, the pool must be bonded carefully before going further. This is also where you need to finish any remaining lines of installation (if there are any).
Please also be aware that there might be some required city building code inspections that need to be done before pouring in the concrete to confirm that the pool production goes along with the area's building protocol.
After securing the frame and the inspections, the pouring of the concrete begins. This could be a loud and messy process - so be prepared! After that, it must be cured for about four weeks by being left to dry, and at the same time sprayed with water periodically every day, which is usually the pool owner's part to handle - in this case, you.
After the curing process, there will likely be some extra space in the hole excavated for the pool, which would then be "backfilled" with soil and consolidated before continuing.
Pool waterproofing and finishing - About 2 to 3 weeks
Once the concrete is ready, the next step is applying titles and preparing for waterproof and aesthetic reasons. Rolling or spraying on a sealant before moving onwards with this stage is highly recommended for extra waterproof capability.
To finish the pool's walls and deck, you can choose from many popular tile options, such as ceramic, glass, and porcelain. For the pool coping around the lip of the pool, concrete, stone, or marble are popular options, while tile is also a typical choice. Both tiling and coping work require the finishing result to be left to cure for 1 or 2 days before adding water to the pool.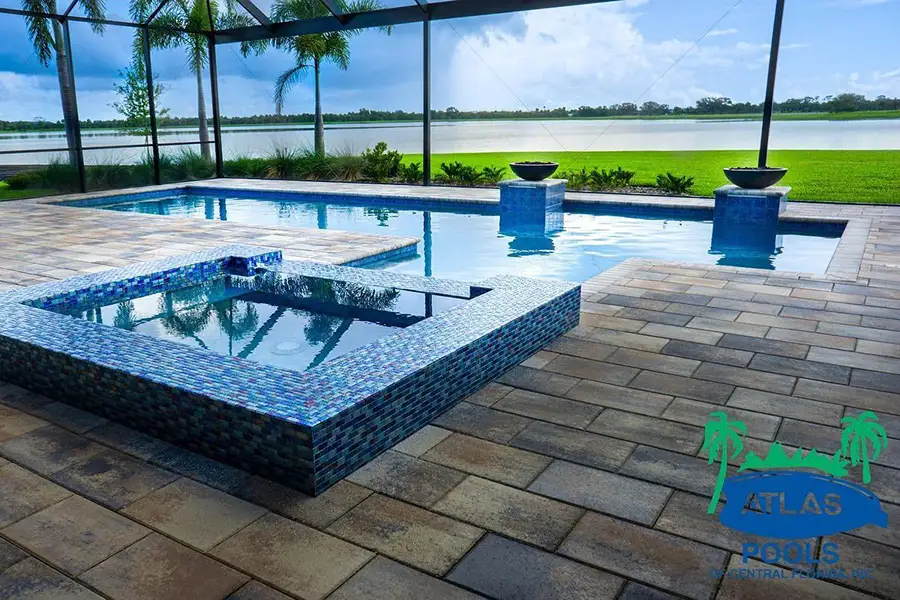 On the other hand, if you are going for a classic vibe, waterproof paint or plaster, which would take longer to cure, could relatively do the trick.
Pool deck, landscaping, and additions - 2 to 3 weeks
This is the finalizing step where, although there are still a few more tasks that need to be accomplished before you can fill the pool with water, your creation has nearly come to realization.
While waiting for the previous curing process to be complete, we can put that time into good use by assembling more finishing touches with a high level of detail based on your beginning ideas in the name of the pool patio, landscaping, and lighting, as well as more custom decorations like waterslides, waterfalls, additional spas equipment, or anything your budget and imagination can provide.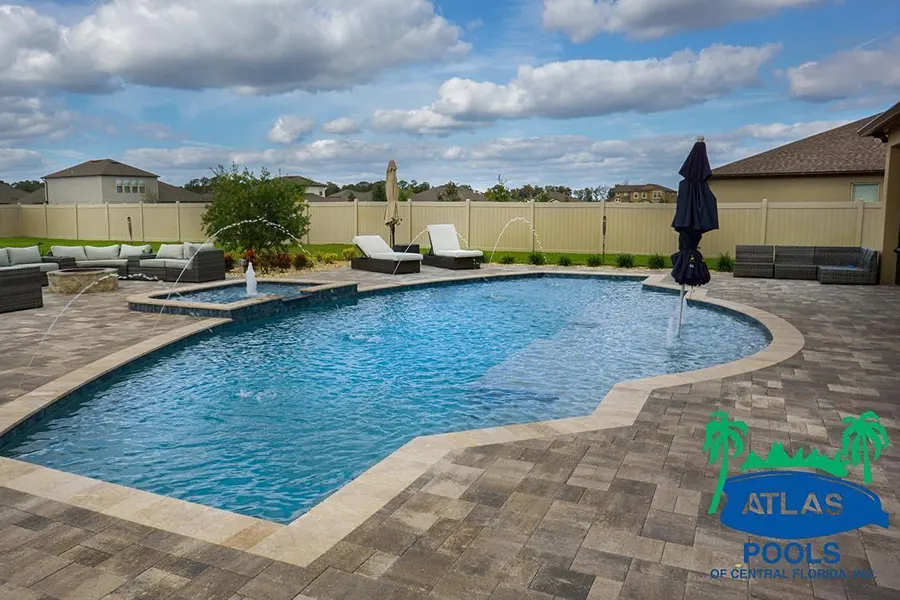 One more note with the landscaping work: Although many people did not have this in mind at first, putting a completely enclosed barrier surrounding the pool of at least 4 feet high is something the state of Florida requires.
Having steady pool fences would prevent people, especially young children, from falling into the pool accidentally. In addition, it would enhance the personal aspect and the private yet aesthetic vibe of the piscina, so they are definitely worth the installation.
Final start-up - Up to 1 week
This is when you would do the pool pump, filter, and heater installation with any necessary pre-cleanup. A final major inspection from the related government department could also happen at this step.
Before diving into the water, continue pumping water to completion not to make any rings, and only add the chlorine about two days before you start using the pool.
When everything above is finished, the water is yours!
Concrete Pool Maintenance
Now that your dream pool is completed, you would want to maintain it as a way to both keep the value of your investment, and provide years of relaxation and entertainment. Besides the basics like cleaning out debris and regularly checking and balancing pool chemistry and chemicals, there is a list of other things to do as well if you want to handle things yourself, like:
brushing pool surface with a steel brush to avoid algae,
running the filter for two circulations every day,
acid washing and resurfacing every few years,
For the best results when it comes to pool maintenance, it is recommended that you hire a pool service company.
Atlas Pools - Your trusted pool builder in Oviedo, Florida
After this article, we hope that you have all the information necessary regarding a successful concrete pool installation.
If you find all the work above too difficult and time-consuming to handle alone for your dream pool in Florida, look no further because Atlas Pools Florida is here!
Being a well-trusted Oviedo-based pool company for nearly 50 years, we are passionate about building the best pools in all shapes and sizes for your Florida property with our vast expertise and skills.
Contact us now at (407) 326-6207, or feel free to leave your information for a quote on our website.