You are missing out on a lot if you don't already have a luxury pools with slides. You might think, "but it's just a pool with slides". Not really. It is so much more.
Your entire house can increase in value just by adding the slides, and you can transform the look of your swimming pool by adding the 'luxury.' But it is not easy to do alone. That's why this guide is here. We'll start with why you need to get luxury pools with slides; then, we'll discuss some structural features of the pool and how you can get one right now.
The benefits of having a luxury pool with slides
You already know the benefits of having a pool. If you don't, you should know that it provides a place to relax from the hot sun during hotter seasons and is a great place to go if you want privacy. It also makes your house look even more elegant and is a great way to work out if you like to swim. But today is all about a luxury pool with slides attached. What could be the benefits of those? Here they are.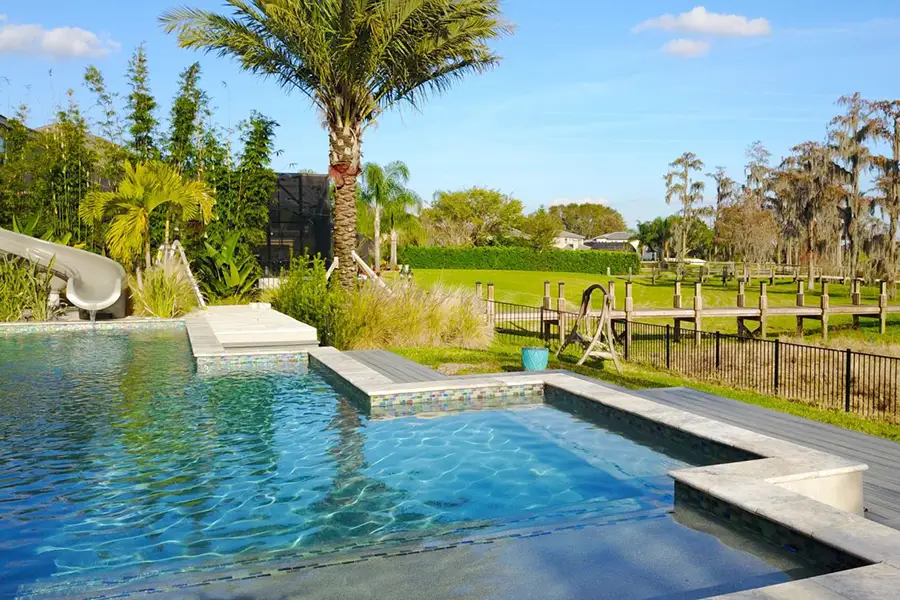 Enhance the Overall Outdoor Living Experience
Any house that has a pool with slides will always get a double-check. Why? It's because the slides make the outdoors look even more beautiful and almost magical. While your outdoor space is already great with a pool, the slides are an extra structure that uplights the design making it more noticeable and attractive.
Increased Fun
Another rather obvious benefit of pools with slides is how much fun you'll have. Slides are generally exciting to be on, and the nature of the structure makes you want to swim even more. It's like a diving board but cooler, safer, and more exhilarating.
Entertainment for Family and Friends
Aside from being a fun experience for you at home, it can also serve as a great entertainment feature whenever you have friends and family over. For instance, you no longer have to worry about setting up a fun spot at a kid's birthday party. The slide and pool are already a big deal of entertainment. Also, if you are planning a hangout with your friends, the slide is something for your guests to look forward to
Features to look for in a luxury pool with slides
Pay attention to the following things when you want to build or design your luxury pool with slides.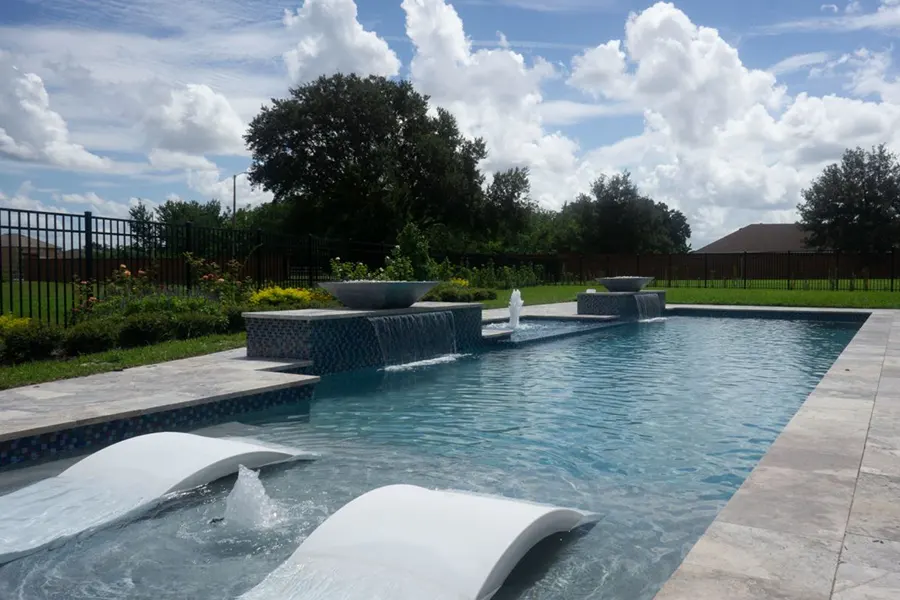 Slide Material
Now that you have a slide, it's not just about the pool alone. It's also about the slide's material. A pool's slide can be made from a number of materials, but when it is supposed to be luxury, the options get a little shorter. If you want your pool to look luxurious, especially when it comes to the slide, ask for it to be made from either rotationally molded polyethylene plastic or fiberglass gel coat.
Not only do these materials look fancy and glamorous on the outside, but they are also durable, rust-resistant, impact-resistant, and, most of all, they do not fade even if they are out in the sun.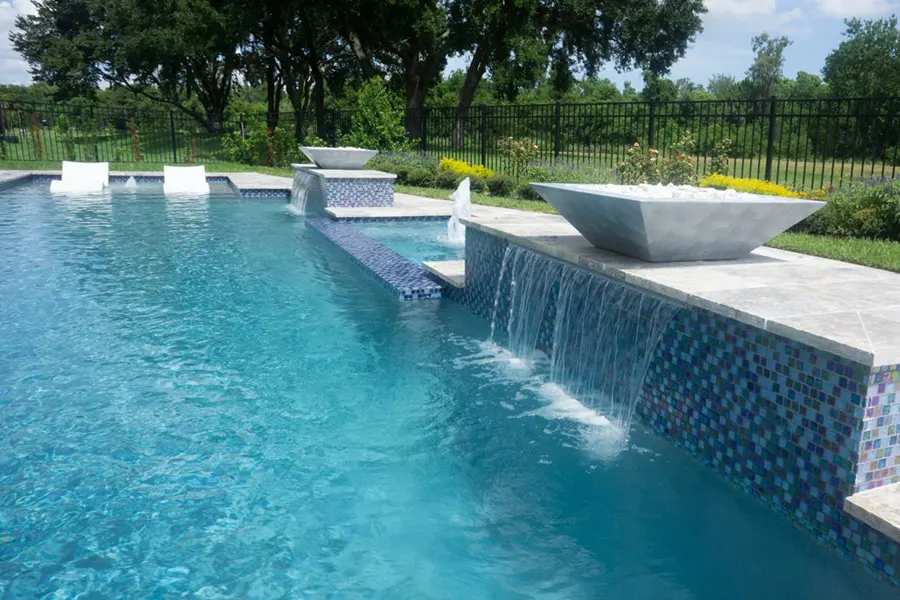 Size and Shape of Pool
Another thing that makes a pool slide beautiful is when the shape or size is not conventional. Most pools are rectangular or square-shaped. But if your pool is irregularly-shaped or even circular with other add-ons, then you have the luxury. Plus, building your pool to be uniquely shaped is still possible, even if you already have a conventional square-shaped pool.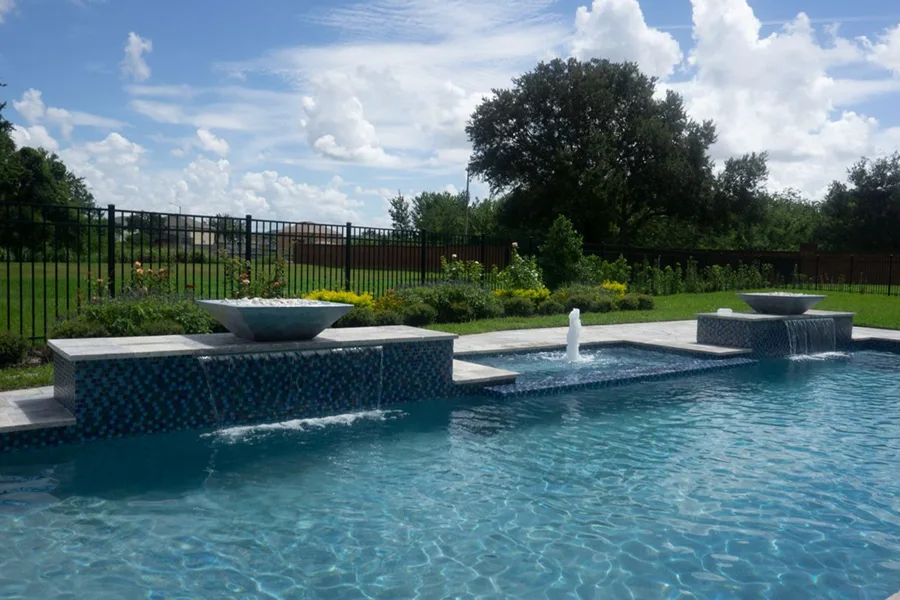 Type of Water Features Available
Finally, another thing that sets it apart from a boring, old pool is exciting, new features. Plus, there are many types to choose from. You could add a dash of flowers and vegetation for a touch of color. You can also add a hot tub at the side. Nothing stops you from adding fountains, staircases, outdoor firepits, cabanas, and even lights. But remember the rule of luxury: less is more. Don't pile it all up, or else you'll get the opposite of what you planned.
Customizing your luxury pool with slides
Customization is all about making what's already beautiful, and peculiar to your preference or taste. Though you have the liberty to choose what you can or cannot add, many pool owners use either of the following;
Waterfalls: They are just so magical and always give the pool a natural touch. Plus, staying under the waterfall is another exciting thing to do.
Lighting: Especially at night, the lights can add to the overall aesthetic of your outdoor space. You can choose colored LED lights at the edge of the pool or neon lights that reflect through the water from inside the pool.
Vegetations: Whether it is a tree, a plant, or a flower, having some greens close to your pool can be marvelous. More care and maintenance come with that, nonetheless.
Outdoor FirePit: You can also add some outdoor fire pits. Super luxurious ones can sometimes be seen amid the waterfall or even on the sides of the pool as lighting.
However, with all these ideas - especially the ones that have to do with electricity, fire, and other related materials, it needs to be installed by a professional and treated with care.
Conclusion
This article started with the benefits of having a luxury pool with slides. Some of them are that the pool would enhance the overall outlook of your outdoor space. It will also help increase your fun while serving as entertainment for your families and friends during hangouts. Also, there are numerous features you can work with when it comes to your pool. Plus, there is no limit to your imagination. All you have to do is contact Atlas Pools, and they'll be at your service to get you the exact kind of pool you want.