Adding a pool to your home is one of the ways you can make your home feel more luxurious and comfortable. But not all pools can be termed 'luxurious'. If you want that extra feel, you may have to go for something like beach entry pools.
These types of pools are the next major thing in pool construction and if you've had the fantasy of bringing a beach into your home; without having to worry about public spaces, then this pool idea can bring you closer to your fantasy.
What is a Beach Entry Swimming Pool?
A beach entry pool is a dream beach/ pool being brought to life; it is simply having the ocean in the backyard of your home with the added advantage of convenience and safety measures the pool comes with.
It is one of the trendy modern pool ideas or fantasy creations in the swimming pool design world. Over the decades it has gained more popularity and usage, as its interests continue to grow among pool buyers.
The pool is usually designed with a typical beach entry to substitute the traditional pool stairs. This makes it easier for people who find it difficult using a standard pool to access the pool. For instance, someone who uses a pool-access wheelchair can even be wheeled into the water without any difficulty and stay within a reasonable depth.
Designed with the configuration of your pool size in mind, you get to create a custom pool to complement your home and recreate your own personal beach.
Factors to Consider When Going For Beach Entry Swimming Pools
Although this type of pool is known for its beautiful features and designs; you may want to consider everything there is to know before making the final decision to become a beach entry swimming pool owner.
Cost
The cost of constructing a beach entry pool can be quite high. This is because not all contractors know how to build or install one, this gives those with the knowledge a competitive advantage to charge higher than regular. Besides, the materials used in building one are more expensive than those used in building a regular pool.
Size
Constructing a beach entry pool is highly dependent on the situation and location of your property; if your backyard doesn't have a lot of space to spare, you may have to go with a smaller pool idea.
Security
If you're going to build a beach entry pool, you'll need to make it secured. As the name suggests the pool has a beach entry and therefore susceptible to unwanted entry from both animals and humans. This is why this type of pool is only ideal for homes with high fences and gates.
Best Beach Entry Pool Ideas In 2023
The new year is right around the corner which means you can start the new year afresh and with change. Of course,the idea of changing an entire pool and backyard may seem quite challenging and intense. First you need a guide and some ideas to work with to influence your decision.
For a while, the Beach Entry Pool was only available in Gunite but there is now the option of getting a Fiberglass pool. Here are some of the best beach entry pool ideas you can consider:
1. Sandal Beach Entry Pool
Not a fan of rectangular pools? Try this sandal design. This beautiful design gives every beach lover the experience of a beach at home. It is made in a color of your choice, with fiberglass material and can come in free form or zero entry design.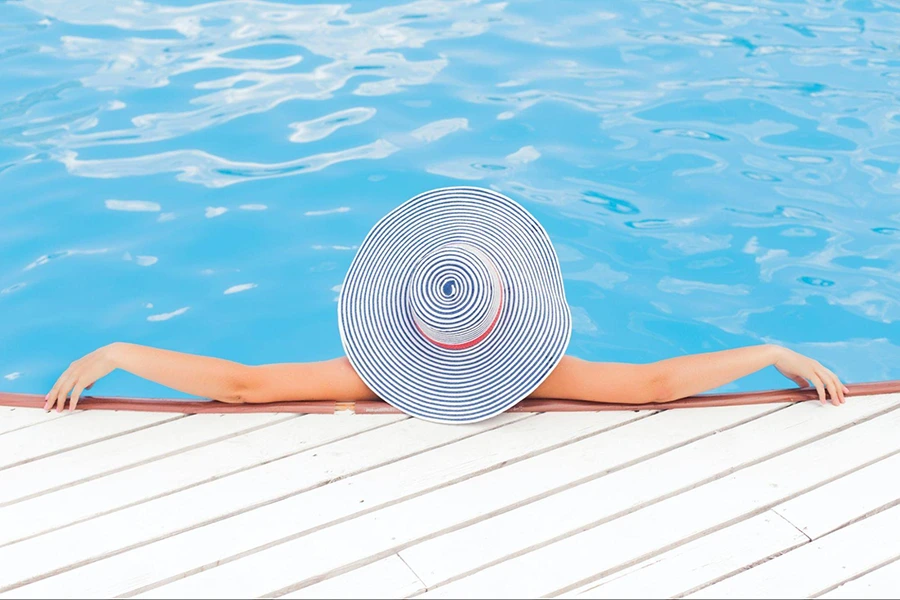 2. Vanishing Edge Pool
This has a unique design; the edges of the pool appear to be producing an illusion of water flowing out of the pool with no boundaries. This type of design is very beautiful and often appears like the edge is merged with a larger body of water or sometimes even the sky.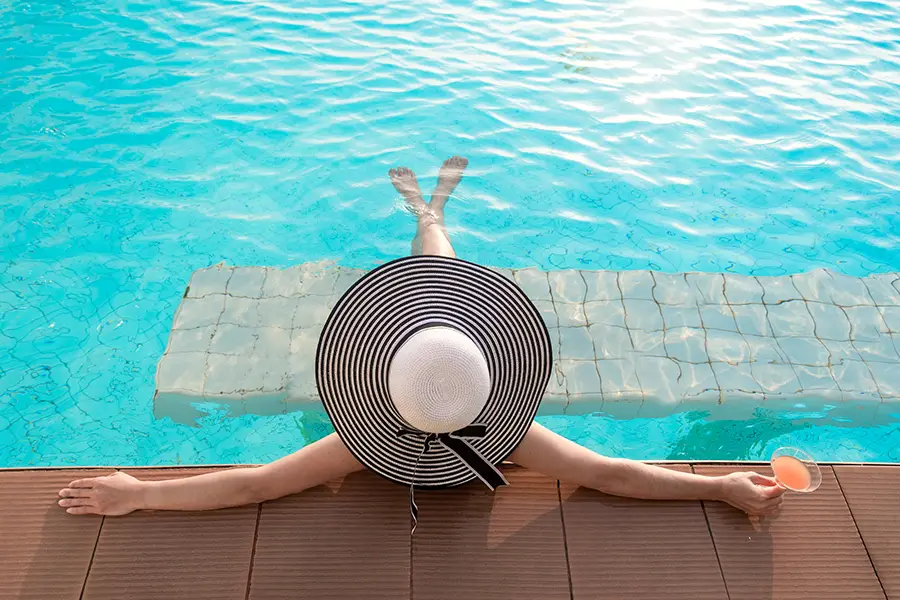 3. Heavenly Beach Entry Pool
This design gives you a feel of what a beach may look like in heaven. The extremely detailed features this design comes with, you can't go wrong having this in your home. This design is top ranking, classy, and literally gives you a peaceful feeling.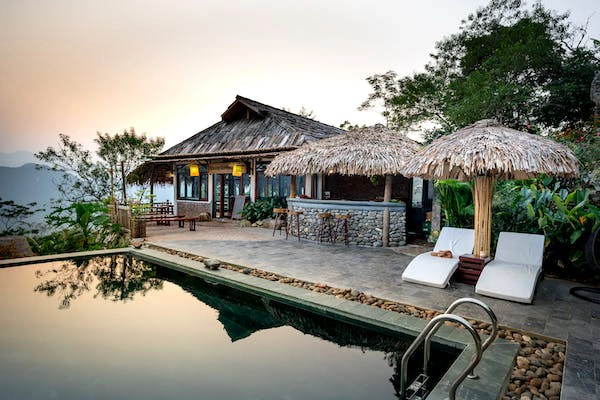 Frequently Asked Questions
Are Beach Entry And Zero Entry The Same?
The beach entry pool is also known as zero entry or a walk-in pool. The terms can be used interchangeably. The names only came from the lack of entry into the pool and fact that it feels like you're on a beach.
What Material Is Used For A Beach Entry Pool?
Building your pool with a beach entry design will require you to make some serious and well thought out financial decisions.
The two main materials options are:
Concrete is the more popular option, it offers a more flexible feature in terms of color and style it's been produced in. However, it may be rough for sitting and laying down.
How big of a pool size do you need for a zero entry pool?
The standard size of a beach pool doesn't really exist because they are mostly custom built. However, the dimensions are always bigger than those of traditional pools because it has to include the most important part, which is the beach entry.
How steep is a beach entry pool?
The steepness of a beach entry pool is one of the many requirements a contractor has to take into consideration before building. It can have a slope that may not exceed a 1:7 slope ratio. This calculation has to be in line with the mandate of swimming pool constructions.
Conclusion
Building a beach entry swimming pool is a major project and one to be embarked on after careful consideration. Nonetheless, it's a worthy investment. Besides the aesthetics, it can add more curb appeal and increase the market value of your property. This is why you need the best contractors if you're going to build one. Fortunately, Atlas pools is here to help! Equipped with decades of experience, unrivaled professionalism, and top-notch building materials, Atlas pools is your best bet when it comes to building the best beach entry swimming pools.